BBWN Bites: Altice Founder Bids, Buys Sotheby's Auction House
In other news, UK politician Boris Johnson has unrealistic fiber dreams, Comcast sees new opportunities for X1, Dish goes home, UK consumer org may avoid court for angry subscribers and the FCC bumps up USF tax -- a sure-fire way to raise US consumers' ire.
Going, going, gone: French entrepreneur Patrick Drahi -- founder of Altice who also acquired Suddenlink and Cablevision Systems -- just bought Sotheby's for a cool $3.7 billion. But Altice will remain Drahi's main focus, he said, not the auction house known for selling multi-million-dollar impressionist paintings, solid gold watches and other almost priceless artifacts. Although the Altice USA chairman and head of Altice Europe said he will not sell any shares of the European company to fund his newest acquisition, Drahi plans to "monetize a small position in Altice USA [of] up to $400 million" by year-end. No word on whether Sotheby's will handle the sale.
Boris Johnson, front runner to be Britain's next prime minister, promises tax cuts and ubiquitous full-fiber coverage (plus the real prospect of a no-deal Brexit), by 2025, reported Light Reading's Iain Morris from Connected Britain. Operator executives listening to BoJo's comments greeted them with "restrained laughter," given that only about 7% of UK households could access fiber networks in May 2019, according to regulatory body Ofcom. (See Brexit-Bound Britain's Broadband Blues.)
Dish Network is re-entering the smart home and IoT market with the launch of OnTech Smart Services for both current and non-Dish subscribers. The direct-to-consumer offering offers on-site installations for many retail devices and entertainment systems via same- or next-day service. Dish is advancing its plan to launch a narrowband IoT network, with future expectations to fund and deploy a standalone 5G network, reported Jeff Baumgartner on Light Reading.
Comcast added eye control to X1, empowering people with disabilities such as spinal cord injuries and amyotrophic lateral sclerosis (ALS), to control the cable operator's TV services without lifting a finger or speaking a word. A web-based remote (for tablets or computers) is partnered with assistive technologies like existing eye-gaze systems and "Sip and Puff" switches, according to Comcast.
Under a plan the British government is considering, the UK's Competition and Markets Authority (CMA) may be able to fine service providers for breaking consumer laws and for "poor business behavior" without going to court. CMA expects this will deter operators that use misleading claims, unfair terms and conditions, seemingly endless service subscriptions and contracts that are difficult to break, it said. Nothing in the release addressed operators' ability to argue their cause.
The FCC announced this month the Universal Service Fund "contribution" factor will be 24.4% next quarter. Fixed and mobile long-distance voice providers generally pass that cost along to long-distance voice users (who often complain to and about their operators about this tax). For reference, in September 2018 the tax increased to 20% for the first time. With the number of voice calls via phone lines decreasing each month, how far will the feds push this tax, which originally was used to fund voice lines for those who could not afford them?
Related posts:
— Alison Diana, Editor, Broadband World News. Follow us on Twitter or @alisoncdiana.
Vendor expands focus into MSOs and utilities, increases fiber sales and extends efforts in global territories, as part of initiative to decrease reliance on CSPs.
Some operators expand existing D3.1 infrastructure, while others discover fiber-only is too slow and expensive to meet subscribers' needs quickly enough to keep them happy.
Piracy and account sharing are taking a sizable bite from operators' content revenue, with incumbents and OTT startups feeling the financial hurt.
The FCC drafts changes to accelerate its satellite review process about a week after Amazon's Project Kuiper files an application with the agency in the fast-moving space broadband race.
Federal agency suggests that mandating competition and infrastructure sharing will discourage MDU buildouts and perpetuate the digital divide.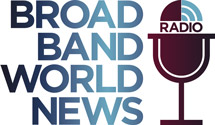 In this insightful Light Reading radio show, Kurt Raaflaub, Head of Strategic Solutions Marketing, will outline the key service provider challenges, deployment considerations, next-gen Gigabit technologies, and service models to win market share in the rapidly growing MDU market.
All resources
Tuesday, May 21, 2019
11:00 a.m. New York / 4:00 p.m London
The MDU market continues to face fierce competition among service providers due to tech-savvy residents (i.e., millennials), demand from building owners and management companies, plus the favorable economics of bulk contracts. However, no MDUs are the same, so service providers must use multiple technologies and inconsistent deployment models, increasing operational complexity and rollout costs.
The MDU market itself is evolving as residents adopt smart-home technologies, generating rising demand for smart apartments with built-in connected thermostats, keyless entryways and doors, and video doorbells. This evolution presents both new challenges and opportunities. In other words, service providers must consider innovative service-delivery strategies to compete and win.
In this Broadband World News and ADTRAN webinar, Kurt Raaflaub, Head of Strategic Solutions Marketing, will highlight emerging MDU broadband Internet trends and challenges. In addition, Kurt will outline the next-generation service creation and delivery platform, built on open standards, that allows service providers to connect millions of underserved MDUs, enables creation of user-driven services, and reduces operational complexity and costs.
Plus, special guest, Alice Lawson, Broadband and Cable Program Manager for the City of Seattle, will discuss Seattle's B4B-Build For Broadband initiative that addresses best practices in planning for MDU telecommunication infrastructure.