BBWN Bites: Inmarsat Blasts Arctic With Satellite Broadband
Also in today's news roundup: NBN reaches more than forecasted, Eutelsat's latest venture, 5G in rural Japan and Google's new subsea cable.
Inmarsat will dedicate two satellite payloads to serving penguins and polar bears, as well as government and commercial customers, in the Arctic region under a partnership with Space Norway and subsidiary Space Norway Heosat. Commercial customers include fleets and fishing vessels, airlines and energy companies, while government clients incorporate nations like the United States, Canada and Scandinavia.
Australian operator NBN boosted its number of 'ready-to-connect' premises by more than 1.1 million during the most recent quarter, increasing the total to 9.93 million by the close of its 2019 fiscal year, which ended June 27. That's more than NBN's FY19 forecast of 9.7 million. Look for more coverage on BBWN today.
Satellite operator Eutelsat Communications is investing €10 million ($11.3 million) in Broadpeak, a provider of content delivery systems via terrestrial and satellite networks. The investment part of Eutelsat's ongoing tactic of integrating satellite into the OTT world, which began in September 2018 when it launched (literally) a hybrid-satellite OTT solution for both satellite TV channels and operators.
KDDI and Softbank teamed up to bring 5G to rural Japan as part of the government's "Society 5.0" initiative. The partners intend to establish a joint construction-management company to simplify design and management both companies' base stations, thereby reducing construction time and allowing them to test network and both fixed and wireless broadband infrastructure quality in less population regions of the nation.
The Colombian Ministry of Telecommunications (Mintic) chose satellite provider SES Networks' partner Inred to deploy, maintain and operate 1,000 WiFi hotspots in 1,000 rural areas. Inred will use SES Networks' Signature Solutions, which taps the SES-14 satellite's combo of wide beams and high throughput (HTS) spot beams. The WiFi system is part of Connect Colombia, the Latin American country's "the digital future belongs to everyone" government program which aims to provide every Colombian with Internet access.
Google's new subsea cable to link Europe and South Africa, Equiano, is being built by Alcatel Submarine Networks. Phase One is slated for completion in 2021. It will run from Lisbon to Lagos to Cape Town when constructed.
Related posts:
— Alison Diana, Editor, Broadband World News. Follow us on Twitter or @alisoncdiana.
Some operators expand existing D3.1 infrastructure, while others discover fiber-only is too slow and expensive to meet subscribers' needs quickly enough to keep them happy.
Piracy and account sharing are taking a sizable bite from operators' content revenue, with incumbents and OTT startups feeling the financial hurt.
The FCC drafts changes to accelerate its satellite review process about a week after Amazon's Project Kuiper files an application with the agency in the fast-moving space broadband race.
Federal agency suggests that mandating competition and infrastructure sharing will discourage MDU buildouts and perpetuate the digital divide.
Subsidiary Kuiper Systems, led by Jeff Bezos, requests FCC permission to launch 3,236 satellites slated to beam broadband service to most of the under- and unserved parts of the world.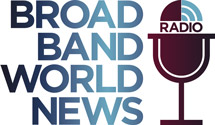 In this insightful Light Reading radio show, Kurt Raaflaub, Head of Strategic Solutions Marketing, will outline the key service provider challenges, deployment considerations, next-gen Gigabit technologies, and service models to win market share in the rapidly growing MDU market.
All resources
Tuesday, May 21, 2019
11:00 a.m. New York / 4:00 p.m London
The MDU market continues to face fierce competition among service providers due to tech-savvy residents (i.e., millennials), demand from building owners and management companies, plus the favorable economics of bulk contracts. However, no MDUs are the same, so service providers must use multiple technologies and inconsistent deployment models, increasing operational complexity and rollout costs.
The MDU market itself is evolving as residents adopt smart-home technologies, generating rising demand for smart apartments with built-in connected thermostats, keyless entryways and doors, and video doorbells. This evolution presents both new challenges and opportunities. In other words, service providers must consider innovative service-delivery strategies to compete and win.
In this Broadband World News and ADTRAN webinar, Kurt Raaflaub, Head of Strategic Solutions Marketing, will highlight emerging MDU broadband Internet trends and challenges. In addition, Kurt will outline the next-generation service creation and delivery platform, built on open standards, that allows service providers to connect millions of underserved MDUs, enables creation of user-driven services, and reduces operational complexity and costs.
Plus, special guest, Alice Lawson, Broadband and Cable Program Manager for the City of Seattle, will discuss Seattle's B4B-Build For Broadband initiative that addresses best practices in planning for MDU telecommunication infrastructure.