Indonesia Chooses Thales Alenia Consortium for Satellite
JAKARTA -- Indonesia's Ministry of Communication and Information Technology (Kominfo) on Thursday selected the consortium led by the domestic satellite operator Pasifik Satelit Nusantara (PSN) to deploy and operate a broadband telecommunication satellite. This consortium has awarded Thales Alenia Space (Joint Venture between Thales (67%) and Leonardo (33%)) to design and manufacture the satellite named SATRIA.
The Consortium PSN has formed Satelit Nusantara Tiga (SNT) to be operating company to carry on the project. The shareholders of SNT are PSN, PT Pintar Nusantara Sejahtera (Pintar), PT Nusantara Satelit Sejahtera, and PT Dian Semesta Sentosa (subsidiary of PT Dian Swastatika Sentosa Tbk). PSN and Pintar are the majority shareholders of SNT and both will maintain majority ownership in the operating company throughout the project lifetime.
Acting as prime contractor, Thales Alenia Space will deliver the Very High Throughput (VHTS) satellite based on its Spacebus NEO full electric platform and fitted with a fifth-generation digital processor (5G). The company will also be in charge to provide two satellite control centers (main and backup), the telecommand and telemetry stations, and the ground mission segment linked to the fully processed payload. In addition, Thales Alenia Space will put in place a complete training program for PSN engineers, where part of them will join the project team as residents in Cannes and Toulouse during the duration of the program.
The full Ka-band SATRIA satellite will carry more than 150 Gbps over the full Indonesian territory. Dedicated to narrow the digital divide, SATRIA has the ambition to connect around 145,000 areas including 90,000 schools, 40,000 hospitals and public buildings as well as regional government sites not linked by existing satellite or terrestrial infrastructure. The satellite will contribute to the digital infrastructure developments in Indonesia.
SATRIA is expected to be launched in Q4 2022 and will be positioned in orbit at 146°E for a 15 years life time.
Some operators expand existing D3.1 infrastructure, while others discover fiber-only is too slow and expensive to meet subscribers' needs quickly enough to keep them happy.
Piracy and account sharing are taking a sizable bite from operators' content revenue, with incumbents and OTT startups feeling the financial hurt.
The FCC drafts changes to accelerate its satellite review process about a week after Amazon's Project Kuiper files an application with the agency in the fast-moving space broadband race.
Federal agency suggests that mandating competition and infrastructure sharing will discourage MDU buildouts and perpetuate the digital divide.
Subsidiary Kuiper Systems, led by Jeff Bezos, requests FCC permission to launch 3,236 satellites slated to beam broadband service to most of the under- and unserved parts of the world.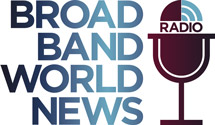 In this insightful Light Reading radio show, Kurt Raaflaub, Head of Strategic Solutions Marketing, will outline the key service provider challenges, deployment considerations, next-gen Gigabit technologies, and service models to win market share in the rapidly growing MDU market.
All resources
Tuesday, May 21, 2019
11:00 a.m. New York / 4:00 p.m London
The MDU market continues to face fierce competition among service providers due to tech-savvy residents (i.e., millennials), demand from building owners and management companies, plus the favorable economics of bulk contracts. However, no MDUs are the same, so service providers must use multiple technologies and inconsistent deployment models, increasing operational complexity and rollout costs.
The MDU market itself is evolving as residents adopt smart-home technologies, generating rising demand for smart apartments with built-in connected thermostats, keyless entryways and doors, and video doorbells. This evolution presents both new challenges and opportunities. In other words, service providers must consider innovative service-delivery strategies to compete and win.
In this Broadband World News and ADTRAN webinar, Kurt Raaflaub, Head of Strategic Solutions Marketing, will highlight emerging MDU broadband Internet trends and challenges. In addition, Kurt will outline the next-generation service creation and delivery platform, built on open standards, that allows service providers to connect millions of underserved MDUs, enables creation of user-driven services, and reduces operational complexity and costs.
Plus, special guest, Alice Lawson, Broadband and Cable Program Manager for the City of Seattle, will discuss Seattle's B4B-Build For Broadband initiative that addresses best practices in planning for MDU telecommunication infrastructure.