BBWN Bites: Subscribers Freeze Out Netflix
Also today, DT balks when Vodafone gets thumbs up on acquisition, BT rides the elevator to success, DNA parts with terrestrial TV and IoT satellite services' ballooning market.
Fewer consumers are chilling with Netflix, a signal of what may be to come as the service loses Friends and other popular programs as competition heats up. The video-streaming provider late Wednesday reported a severe shortfall in subscriber targets, adding 2.7 million new customers worldwide, more than 45% below its guidance of 5 million net additions. Netflix actually lost subscribers in the US, where 130,000 paying customers quit the service -- unlike 12 months prior, when 870,000 people signed up. (See Stranger Things: Netflix Falls Short on Subs.)
Deutsche Telekom is considering legal action after the European Commission approved Vodafone's acquisition of Liberty Global's cable business in four European countries. The EC attached conditions to the purchases in Germany, the Czech Republic, Hungary and Romania, as Light Reading's Iain Morris wrote. (Catch up here: DT Considers Legal Action Over Vodafone-Liberty Merger and Vodafone Gets Blessing for €18.4B Liberty Takeover.)
Schindler -- which makes elevators, escalators and moving walkways -- chose BT to develop and manage a reliable, secure global network to connect its data centers, offices, factories and contact centers. BT's IP Connect incorporates multiple access technologies, ranging from VDSL and Gfast to FTTx, enabling customers to leverage existing copper or deploy new fiber-optic cable.
Finnish service provider DNA will sell its terrestrial pay-TV network business to Digita Oy, with the transfer going into effect on Jan. 1, 2020. DNA will continue to focus on serving its more than 600,000 cable and broadband pay-TV service customers, said Pekka Väisänen, senior vice president of DNA's Consumer Business, in a statement. The operator also has about 250,000 DNA TV customers, Väisänen added. The deal, which has terms that will not be disclosed, awaits regulatory approval.
The worldwide market for IoT-specific satellite services that focus on connecting end-devices and connectivity fees will be worth $5.9 billion in 2025, after it starts to take off in 2021 or 2022, predicts Rethink Research. Incumbent broadband satellite providers will face new, more nimble startups, the report said. There will be about 30.3 million satellite IoT devices deployed globally by 2025, growing at a CAGR of just under 40%, versus 2.5 million satellite IoT devices in 2019, the researcher said.
Related posts:
— Alison Diana, Editor, Broadband World News. Follow us on Twitter or @alisoncdiana.
Findings from university researchers and The Wall Street Journal indicate that many US homes are overpaying for broadband.
As cable operators weigh construction costs, the potential for service disruptions, training needs and network maintenance, the decision on which path to take isn't so straightforward anymore.
In a one-on-one interview with Broadband World News, ADTRAN Chairman and CEO Tom Stanton speaks about the vendor's success with a new breed of broadband providers, today's competitive environment and, yes, Verizon and NG-PON2.
In a provocative new BBWN webinar, Broadband Success Partners' Jack Burton will delve into cable's next-gen HFC architecture plans and explain why going all-fiber may make more sense for operators right now.
Five years ago, NOS board member Manuel Ramalho Eanes helped steer the Portuguese service provider toward a future heavily reliant on smart homes and cities. It's a decision the provider is glad it made.



Five years ago, NOS board member Manuel Ramalho Eanes banked big on smart homes and smart cities.




Slovak Telekom and T-Mobile Czech Republic Chief Technology and Information Officer Branimir Maric is using his more than two decades' experience in telco, including 15 years in various ...




Operators cannot protect networks -- their own or their customers -- by building a hard shell around the infrastructure, given the sensitive data dwelling and being sent to and from edge ...




Communications service providers have long talked about improving the day-to-day experience of their customers, but have not always backed up their words with actions and resources.

All Broadband World Forum Perspectives
All resources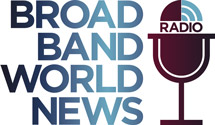 In this insightful Light Reading radio show, Kurt Raaflaub, Head of Strategic Solutions Marketing, will outline the key service provider challenges, deployment considerations, next-gen Gigabit technologies, and service models to win market share in the rapidly growing MDU market.
Tuesday, September 10, 2019
12:00 p.m. New York / 5:00 p.m. London
Wi-Fi is the foundation of the connected home for consumers; yet, it's often a source of frustration. With the imminent release of the new Wi-Fi 6 standard – combined with a strong Managed Wi-Fi offer – service providers can reverse subscriber frustration while tapping into new revenue streams.
Key topics include:
What's different about Wi-Fi 6 and why it matters to your subscribers
The importance of offering Managed Wi-Fi and its connection to Wi-Fi 6
How you can elevate your brand and gain a strong foothold in the home network.