BBWN Bites: Brits' Broadband Agenda Blurs
Also today, UK wholesaler CityFibre sticks to its knitting, two Chicago MDUs get smarter, Altice France speaks set-top-box and Mediaset wins big in Italy.
Days after BT warned it may not pay dividends to finance its fiber deployment, the UK's Department for Digital, Culture, Media and Sport erased all references to target dates for the rollout of high-speed networks in a statement of strategic priorities, published July 18. A Bloomberg report noted that in a February 2019 draft, the stated goal was to make ultra-fast networks available to 15 million UK premises by 2025 and nationwide by 2033, but those details have not been removed. Cynical observers might note that Boris Johnson -- widely expected to become the next Prime Minister when the Conservative party vote is revealed next Tuesday -- and his rival, Foreign Secretary Jeremy Hunt, both promised voters they would deliver nationwide fiber broadband coverage within six to eight years. Apparently, some people took those opportunist assurances to be meaningful.
Regardless of the next PM's plans, altnets such as CityFibre continue to meet their own goals. The full-fiber wholesaler just added 14 more municipalities to its "Gigabit City Club," bringing the total to 26. This deployment forms the next phase in CityFibre's £2.5 billion ($3.1 billion) investment plan to bring full-fiber infrastructure to more than 20% (5 million homes) of the UK. The 14 new cities add 1 million-plus premises to the existing 1 million covered by the 12 prior cities; construction is underway in 10 cities and gigabit-capable broadband services are live and available to customers in five, according to the wholesale operator.
Xfinity Communities -- part of the Comcast family of businesses -- teamed up with Chicago property-management company Kass Management Services to deploy the operator's Smart Communities platform at two multi-family rental properties. Fifty units were kitted out with smart devices such as thermostats and lighting, which renters controlled via the Xfinity Communities app. Property managers could combine the app with Xfinity Internet service to eventually expand the platform to include security cameras and smart locks, for example. Managers also can oversee smart devices in communal areas, such as gyms and pools, to improve energy efficiency and security, the partners said.
Altice France/SFR will next month launch a new 4K-compatible set-top box to its fiber and DSL customers. The AFR Box 8, designed by Altice Labs and which incorporates WiFi 6 connectivity, will debut in France and then roll out to other Altice Europe markets. AFR Box 8 also includes OK SFR, Altice's in-house assistant that allows subscribers to use voice commands for TVs and connected home devices, once the SFR Home platform becomes available: That capability is expected to launch soon, according to Altice.
Related posts:
— Alison Diana, Editor, Broadband World News. Follow us on Twitter or @alisoncdiana.
Branimir Maric, CTIO at Slovak Telekom and T-Mobile Czech Republic, discusses the rise and future of the next-generation network, and the challenges and opportunities that are ahead.
ADTRAN kicks open the door to connected home opportunity for operators, integrating SmartRG into Mosaic Subscriber Experience Suite and debuting new products.
It would cost about $70 billion over 10 years to bring all-fiber fixed-access broadband to rural and small-town America, writes Fiber Broadband Association President and CEO Lisa Youngers in this month's exclusive BBWN column. The ROI? Priceless.
The industry association's latest iteration of its popular TR-069 standard was specifically developed to help providers remotely manage and control smart-home networks.
Cable operator's program for low-income households has sufficient speeds to support the needs of students, veterans, seniors and other consumers who qualify for the $9.95/month offering.



Slovak Telekom and T-Mobile Czech Republic Chief Technology and Information Officer Branimir Maric is using his more than two decades' experience in telco, including 15 years in various ...




Operators cannot protect networks -- their own or their customers -- by building a hard shell around the infrastructure, given the sensitive data dwelling and being sent to and from edge ...




Communications service providers have long talked about improving the day-to-day experience of their customers, but have not always backed up their words with actions and resources.

All Broadband World Forum Perspectives
All resources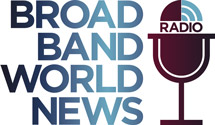 In this insightful Light Reading radio show, Kurt Raaflaub, Head of Strategic Solutions Marketing, will outline the key service provider challenges, deployment considerations, next-gen Gigabit technologies, and service models to win market share in the rapidly growing MDU market.
Wednesday, August 21, 2019
11:00 a.m New York./4:00 p.m.London
The cable industry took a major step in the battle for Gigabit broadband supremacy with the announcement of its 10G Platform vision. The key to realizing this vision hinges on leveraging the right access technologies and network architectures to provide the best balance of benefit versus cost.
One network path has the MSO embracing Next-Generation Hybrid Fiber Coax (NG HFC), which includes:
Distributed Access Architecture (DAA)
Node+0
Full Duplex DOCSIS (FDX)
Virtual Cable Converged Access Platforms (vCCAP)
Fiber-to-the-Home/Business (FTTH/B) is another network option, affording gigabit broadband scalability and 10Gbps service capability. How is an MSO to decide where which option works best and what to do now to prepare its networks for the onslaught of high-bandwidth residential and business applications?
During this webinar, Jack Burton, principal of Broadband Success Partners, outlines current and new access network architectures. Additionally, he will examine the facts and debunk some common misconceptions surrounding both fiber and NG HFC network deployment and maintenance.
Tuesday, September 10, 2019
12:00 p.m. New York / 5:00 p.m. London
Wi-Fi is the foundation of the connected home for consumers; yet, it's often a source of frustration. With the imminent release of the new Wi-Fi 6 standard – combined with a strong Managed Wi-Fi offer – service providers can reverse subscriber frustration while tapping into new revenue streams.
Key topics include:
What's different about Wi-Fi 6 and why it matters to your subscribers
The importance of offering Managed Wi-Fi and its connection to Wi-Fi 6
How you can elevate your brand and gain a strong foothold in the home network.