CenturyLink Digs Today's Fiber
Also, ISP knows gamers aren't playing, Boris Johnson blathers about broadband, Prysmian Group unites Denmark and the UK, the government throws a spanner in Inmarsat's deal and Open Fiber chooses FWA provider.
CenturyLink is adding 4.7 million more miles of fiber in 50 major US cities by 2021, the company said today. It already finished phase one of the expansion -- 3.5 million miles of fiber -- in June. When CenturyLink last completed a deployment like this, it was a different company and fiber deployments were quite different, too, according to CenturyLink CTO Andrew Dugan. He tells Light Reading about how advances in optical tech help CenturyLink leverage partner Corning's fiber-optics and what that means for broadband. (See CenturyLink Adds Fiber to Fuel Datacenter, Cloud Growth.)
ISP Ghost Gamer Broadband formally debuted a pro-gamer broadband service designed for the UK's competitive online gaming community. It leverages parent company Structured Communications' business-grade broadband and focuses on delivering resilient, stable connectivity that maintains speed and reliability even during peak playing times. The service is powered by multiple 10 Gbps upstream fiber circuits for continuous, reliable speed, according to Ghost.
Today Boris Johnson, the Tory-elected UK Prime Minister, claimed "fantastic full fiber broadband [will be] sprouting from every household," Reuters reported. (See BBWN Bites: Brits' Broadband Agenda Blurs.)
National Grid Viking Link and Energinet chose Prysmian Group to develop Viking Link, the first submarine cable connection between the UK and Denmark. The contract, worth close to €700 million ($781.3 million), includes design, manufacture and installment of the entire 1,250 km (about 777 miles) cable for the submarine route and all of the 135 km (about 84 miles) of land cables on the UK side.
Citing national security, UK's government has stalled satellite-broadband provider Inmarsat's deal to be acquired by a private-equity led consortium for $3.4 billion. The Competition and Markets Authority must write a report about the "competition and national security aspects of the proposed transaction" by September 17.
Government-backed Open Fiber chose Intracom Telecom to supply it with the fixed-wireless access (FWA) solutions it needs to provide high-speed broadband to about 20 million Italian premises. These primarily rural homes and small businesses are generally too hard to reach with fiber and copper-based technologies like VDSL and Gfast.
Related posts:
— Alison Diana, Editor, Broadband World News. Follow us on Twitter or @alisoncdiana.
Findings from university researchers and The Wall Street Journal indicate that many US homes are overpaying for broadband.
As cable operators weigh construction costs, the potential for service disruptions, training needs and network maintenance, the decision on which path to take isn't so straightforward anymore.
In a one-on-one interview with Broadband World News, ADTRAN Chairman and CEO Tom Stanton speaks about the vendor's success with a new breed of broadband providers, today's competitive environment and, yes, Verizon and NG-PON2.
In a provocative new BBWN webinar, Broadband Success Partners' Jack Burton will delve into cable's next-gen HFC architecture plans and explain why going all-fiber may make more sense for operators right now.
Five years ago, NOS board member Manuel Ramalho Eanes helped steer the Portuguese service provider toward a future heavily reliant on smart homes and cities. It's a decision the provider is glad it made.



Five years ago, NOS board member Manuel Ramalho Eanes banked big on smart homes and smart cities.




Slovak Telekom and T-Mobile Czech Republic Chief Technology and Information Officer Branimir Maric is using his more than two decades' experience in telco, including 15 years in various ...




Operators cannot protect networks -- their own or their customers -- by building a hard shell around the infrastructure, given the sensitive data dwelling and being sent to and from edge ...




Communications service providers have long talked about improving the day-to-day experience of their customers, but have not always backed up their words with actions and resources.

All Broadband World Forum Perspectives
All resources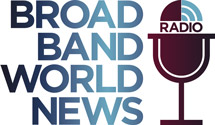 In this insightful Light Reading radio show, Kurt Raaflaub, Head of Strategic Solutions Marketing, will outline the key service provider challenges, deployment considerations, next-gen Gigabit technologies, and service models to win market share in the rapidly growing MDU market.
Tuesday, September 10, 2019
12:00 p.m. New York / 5:00 p.m. London
Wi-Fi is the foundation of the connected home for consumers; yet, it's often a source of frustration. With the imminent release of the new Wi-Fi 6 standard – combined with a strong Managed Wi-Fi offer – service providers can reverse subscriber frustration while tapping into new revenue streams.
Key topics include:
What's different about Wi-Fi 6 and why it matters to your subscribers
The importance of offering Managed Wi-Fi and its connection to Wi-Fi 6
How you can elevate your brand and gain a strong foothold in the home network.