BBWN Bites: Subsidized New Builds Need Broadband Cabling, Irish Agency Says
Also today, SES connects with Amdocs on satellite network management using ONAP, Mexico gets a broadband assist in unserved areas and CommScope adds product aimed at cable's remote PHY network migration.
If an area gets tax money toward broadband services, before getting planning approval, builders should be mandated to include high-speed broadband cabling in all new homes in that region, some Irish government officials recommend. Members of Ireland's Department of Communications told the Oireachtas committee on communications they want ducting for high-speed broadband included in homes built in these areas as part of a cost-cutting measure the European Union suggests in its broadband initiatives, reported the Irish Times.
Satellite operator SES Networks turned to Amdocs to deploy ONAP on Microsoft Azure cloud to allow its telco customers to manage data flows on SES satellite networks. SES plans to use ONAP plus other network functions virtualization capabilities to support clients via Microsoft Azure Marketplace. It's also partnered with Amazon Web Services and IBM to connect satellite-soaring customers with the cloud. (See SES Takes ONAP to the Final Frontier.)
The broadband division of Utility Comision Federal de Electricidad (CFE) is now responsible for extending fixed broadband infrastructure across Mexico to areas unserved by the country's private operators. The Mexican government chose subsidiary CFE Telecomunicaciones to oversee its Internet para Todos -- Internet for All -- program.
Alta Devices is ramping up solar production to meet growing demand for small satellites which rely on the sun for power. Solar is the single most expensive hardware component in these low-earth orbit (LEO) satellites, increasingly used to deliver worldwide broadband. Alta Devices' proprietary equipment mass-produces a thin film gallium arsenide that scales up for higher volume, lower-cost manufacturing, the Logan, Utah-based vendor said. The design also features flexible solar cells for more compact design and flexible, glass-free photovoltaic assemblies (PVAs) that are ten to 100 times larger than traditional glass PVAs, do not break and are less costly, Alta Devices added. (See Alta Devices' Solar Techs Cut LEO Satellite Costs.)
CommScope's new, high-capacity remote PHY device easily fits into most of its existing fiber nodes, thereby simplifying operator migrations to distributed access architectures (DAA) that will eventually be used to deliver symmetric speeds of up to 10 Gbit/s, wrote Jeff Baumgartner in Light Reading. CommScope's new R-PHY device, the RD1322, fits handily within the base of Arris NC4- and OM4-series fiber nodes, CommScope said. In fact, CommScope -- which completed its acquisition of Arris about three months ago -- figures these new R-PHY moduels will fit into about three-fourths of Arris' deployed based of nodes.
Bashtel, a subsidiary of Russian operator Rostelecom, said it's signed an agreement to acquire 100% of the three companies making up the Alliance Telecom Group. ATG delivers broadband and pay-TV to homes and businesses across the Primorsky area, which includes cities like Vladivostok and Artyom. Residential accounts for about 80% of ATG revenue, which totaled RUB900 million ($13.8 million) in 2018.
Related posts:
— Alison Diana, Editor, Broadband World News. Follow us on Twitter or @alisoncdiana.
Branimir Maric, CTIO at Slovak Telekom and T-Mobile Czech Republic, discusses the rise and future of the next-generation network, and the challenges and opportunities that are ahead.
ADTRAN kicks open the door to connected home opportunity for operators, integrating SmartRG into Mosaic Subscriber Experience Suite and debuting new products.
It would cost about $70 billion over 10 years to bring all-fiber fixed-access broadband to rural and small-town America, writes Fiber Broadband Association President and CEO Lisa Youngers in this month's exclusive BBWN column. The ROI? Priceless.
The industry association's latest iteration of its popular TR-069 standard was specifically developed to help providers remotely manage and control smart-home networks.
Cable operator's program for low-income households has sufficient speeds to support the needs of students, veterans, seniors and other consumers who qualify for the $9.95/month offering.



Slovak Telekom and T-Mobile Czech Republic Chief Technology and Information Officer Branimir Maric is using his more than two decades' experience in telco, including 15 years in various ...




Operators cannot protect networks -- their own or their customers -- by building a hard shell around the infrastructure, given the sensitive data dwelling and being sent to and from edge ...




Communications service providers have long talked about improving the day-to-day experience of their customers, but have not always backed up their words with actions and resources.

All Broadband World Forum Perspectives
All resources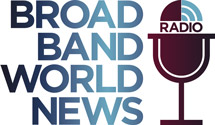 In this insightful Light Reading radio show, Kurt Raaflaub, Head of Strategic Solutions Marketing, will outline the key service provider challenges, deployment considerations, next-gen Gigabit technologies, and service models to win market share in the rapidly growing MDU market.
Wednesday, August 21, 2019
11:00 a.m New York./4:00 p.m.London
The cable industry took a major step in the battle for Gigabit broadband supremacy with the announcement of its 10G Platform vision. The key to realizing this vision hinges on leveraging the right access technologies and network architectures to provide the best balance of benefit versus cost.
One network path has the MSO embracing Next-Generation Hybrid Fiber Coax (NG HFC), which includes:
Distributed Access Architecture (DAA)
Node+0
Full Duplex DOCSIS (FDX)
Virtual Cable Converged Access Platforms (vCCAP)
Fiber-to-the-Home/Business (FTTH/B) is another network option, affording gigabit broadband scalability and 10Gbps service capability. How is an MSO to decide where which option works best and what to do now to prepare its networks for the onslaught of high-bandwidth residential and business applications?
During this webinar, Jack Burton, principal of Broadband Success Partners, outlines current and new access network architectures. Additionally, he will examine the facts and debunk some common misconceptions surrounding both fiber and NG HFC network deployment and maintenance.
Tuesday, September 10, 2019
12:00 p.m. New York / 5:00 p.m. London
Wi-Fi is the foundation of the connected home for consumers; yet, it's often a source of frustration. With the imminent release of the new Wi-Fi 6 standard – combined with a strong Managed Wi-Fi offer – service providers can reverse subscriber frustration while tapping into new revenue streams.
Key topics include:
What's different about Wi-Fi 6 and why it matters to your subscribers
The importance of offering Managed Wi-Fi and its connection to Wi-Fi 6
How you can elevate your brand and gain a strong foothold in the home network.