BBWN Bites: Warren's Expansive Broadband Plan
In other news, Liberty Global's broadband fight, Cable One's broadband gains, Shentel's ambitious fixed-wireless plans and some new names in the SCTE•ISBE org chart.
Democratic presidential contender Elizabeth Warren wrote a blog post that discussed her plans for giving all municipalities the right to build and run their own broadband infrastructure. Warren wants to create a new federal office to oversee an $85 billion federal grant program to expand nationwide broadband access and appoint pro-net neutrality FCC commissioners, in addition to boosting the FCC's Office of Native Affairs and Policy. She also plans to improve broadband-map accuracy; ban "sneaky" and "anti-competitive" maneuvers by incumbents, and work toward passing the "Digital Equity Act, which will invest $2.5 billion over a decade to help states develop "digital equity plans and launch digital inclusion projects."
Liberty Global saw its second-quarter revenues drop 6% due partly to tough competition in markets like the UK, where altnets and incumbents are ramping up infrastructure investments. Liberty Global's Virgin Media subsidiary isn't sitting still in that market as the carrier unveiled its own ambitious fiber deployment plan last month.
Residential broadband and business services provider Cable One added 20,392 broadband subscribers for a total of almost 613,000 during its second quarter. This 8.5% year-over-year increase drove the operator to residential broadband revenue of $132.82 million. (See Residential Broadband, Biz Services Drive Cable One Forward in Q2 .)
Regional operator Shentel is raising 2019 capex guidance from $150 million to $170 million to cover its entry into fixed wireless access (FWA) as part of its wireline and wireless infrastructure. Shentel serves parts of Virginia, West Virginia, Maryland and Pennsylvania with a combination of fiber, DOCSIS 3.1 and LTE fixed wireless. Shentel plans to spend about $17 million for approximately 90MHz of spectrum licenses in the 2.5GHz band covering a total of 1 million points of presence. Eventually, Shentel's FWA service will cover half-a-million households, including 280,000 rural premises that today get broadband solely via satellite. (See Shentel to Get Bigger Using Mix of Fiber, Cable & LTE Fixed Wireless.)
The Society of Cable Telecommunication Engineers (SCTE) and its global arm, the International Society of Broadband Experts (ISBE), said today Geoffrey Matt had been promoted to vice president, Finance and Accounting. Previously, Matt was the director of finance for SCTE•ISBE, a position he'd held since joining the non-profit in 2016. Matt replaces Cathy Karch, who retired last month. In this role, Matt develops and executes financial strategies to ensure budgetary compliance and other responsibilities that enable the organization to act as the "applied science arm of the cable telecommunications industry."
Related posts:
— Alison Diana, Editor, Broadband World News. Follow us on Twitter or @alisoncdiana.
(Home page source: The Collaboratory via Creative Commons)
Branimir Maric, CTIO at Slovak Telekom and T-Mobile Czech Republic, discusses the rise and future of the next-generation network, and the challenges and opportunities that are ahead.
ADTRAN kicks open the door to connected home opportunity for operators, integrating SmartRG into Mosaic Subscriber Experience Suite and debuting new products.
It would cost about $70 billion over 10 years to bring all-fiber fixed-access broadband to rural and small-town America, writes Fiber Broadband Association President and CEO Lisa Youngers in this month's exclusive BBWN column. The ROI? Priceless.
The industry association's latest iteration of its popular TR-069 standard was specifically developed to help providers remotely manage and control smart-home networks.
Cable operator's program for low-income households has sufficient speeds to support the needs of students, veterans, seniors and other consumers who qualify for the $9.95/month offering.



Slovak Telekom and T-Mobile Czech Republic Chief Technology and Information Officer Branimir Maric is using his more than two decades' experience in telco, including 15 years in various ...




Operators cannot protect networks -- their own or their customers -- by building a hard shell around the infrastructure, given the sensitive data dwelling and being sent to and from edge ...




Communications service providers have long talked about improving the day-to-day experience of their customers, but have not always backed up their words with actions and resources.

All Broadband World Forum Perspectives
All resources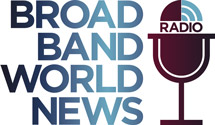 In this insightful Light Reading radio show, Kurt Raaflaub, Head of Strategic Solutions Marketing, will outline the key service provider challenges, deployment considerations, next-gen Gigabit technologies, and service models to win market share in the rapidly growing MDU market.
Wednesday, August 21, 2019
11:00 a.m New York./4:00 p.m.London
The cable industry took a major step in the battle for Gigabit broadband supremacy with the announcement of its 10G Platform vision. The key to realizing this vision hinges on leveraging the right access technologies and network architectures to provide the best balance of benefit versus cost.
One network path has the MSO embracing Next-Generation Hybrid Fiber Coax (NG HFC), which includes:
Distributed Access Architecture (DAA)
Node+0
Full Duplex DOCSIS (FDX)
Virtual Cable Converged Access Platforms (vCCAP)
Fiber-to-the-Home/Business (FTTH/B) is another network option, affording gigabit broadband scalability and 10Gbps service capability. How is an MSO to decide where which option works best and what to do now to prepare its networks for the onslaught of high-bandwidth residential and business applications?
During this webinar, Jack Burton, principal of Broadband Success Partners, outlines current and new access network architectures. Additionally, he will examine the facts and debunk some common misconceptions surrounding both fiber and NG HFC network deployment and maintenance.
Tuesday, September 10, 2019
12:00 p.m. New York / 5:00 p.m. London
Wi-Fi is the foundation of the connected home for consumers; yet, it's often a source of frustration. With the imminent release of the new Wi-Fi 6 standard – combined with a strong Managed Wi-Fi offer – service providers can reverse subscriber frustration while tapping into new revenue streams.
Key topics include:
What's different about Wi-Fi 6 and why it matters to your subscribers
The importance of offering Managed Wi-Fi and its connection to Wi-Fi 6
How you can elevate your brand and gain a strong foothold in the home network.