Calix Adds New 10G PON Solutions to AXOS, EXOS Platforms
SAN JOSE, Calif. -- Calix, Inc. today announced major enhancements to its everyPON strategy, delivering new 10G solutions for its AXOS and EXOS platforms. Now CSPs of all sizes can leverage Calix Cloud to identify subscribers who would benefit from multi-gigabit services and deploy the Passive Optical Network (PON) technologies of their choice on a single system or network to meet subscriber demand.
AXOS has a portfolio of systems designed to power networks built on all PON technology -- GPON, XGS-PON, 10G EPON and NG-PON2. The Calix everyPON strategy does not limit providers to a specific PON technology to deliver the 10G services that run on these systems. With AXOS, they can future-proof their fiber networks and deploy the right technology at the right time to optimize their capital investments.
The adoption of data-intensive applications like cloud gaming and remote worker high-definition video conferencing are driving demand for 10G services. According to the latest Global Market Share Report for GPON and 10GPON from Broadbandtrends, at the end of Q1 2019, Calix platforms and systems represented nearly 40% of global 10G purchases. This is more than twice the share of the number two technology provider. Calix's market leadership results from of our commitment to delivering 10G solutions that eliminate the need for CSPs to lock themselves into any one PON technology and enables CSPs to invest in multi-gigabit services for both existing and future networks.
Relevant Calix solutions include:
Calix Cloud – A unique analytics platform that enables CSPs to mine subscriber behavioral and network data to understand the needs of individual subscribers so they can invest when and where there is actual demand for 10G services.
AXOS systems – With the addition of the E3-2 XGS-PON module, XGS based services can now be delivered from any AXOS system. Thanks to its modular architecture and hardware independence, AXOS delivers common operating procedures that simplify CSP operations and enable them to run any PON technology on a single network while delivering 10G services from virtually any location.
EXOS systems – With the addition of the GigaProX business ONU for 10G business services to our EXOS portfolio, Calix now offers the most comprehensive end-to-end XGS solution set in the world. With the addition of the GP1200NG, any CSP can embrace NG-PON2 and begin deploying the converged network of the future today. By pairing any of our EXOS 10G ONUs with our EXOS Smart Home Systems, CSPs can elevate their services to meet new and emerging subscriber demands.
"Service providers are already facing ever-increasing bandwidth demand from their subscribers, and upcoming applications such as 5G and cloud-based gaming and streaming platforms, are going to increase demand further," said Julie Kunstler, principal analyst, network infrastructure and software for Ovum. "They recognize the need to move to 10G and beyond, but that migration comes at a cost and one size does not fit every subscriber—especially over time. Service providers must have visibility and analytics to monitor and meet the evolving behaviors and usage patterns of their subscribers. They must meet these requirements without costly network changes. Calix's EXOS and AXOS provide a comprehensive set of solutions, enabling service providers to support changing and increasing bandwidth patterns, meeting quality of experience expectations while achieving network future-proofing."
Calix has aligned a comprehensive set of capabilities to help CSPs maximize the return on their network investments. Calix Marketing Cloud gives CSPs the insights they need to understand subscriber usage patterns and behaviors. Once CSPs understand subscriber demand, they can choose the appropriate AXOS systems and PON technologies for their network. Progressive CSPs are also deploying EXOS systems that are designed to deliver next-generation subscriber services that exploit high-bandwidth networks. As the market leader in 10G services, Calix is helping hundreds of CSPs evaluate their network strategy and investment. The Calix Services team can help any CSP plan, deploy, operate, and monitor their next-generation network.
"Many in our industry are talking about 10G PON technologies. Typically, they are providing guidance that simply doesn't align with a winning long-term strategy for CSPs," said Michel Langlois, chief development officer for Calix. "Communications service providers must build their networks to address their unique requirements including business strategy, geography, type of traffic, number of subscribers and usage patterns. These needs are constantly changing. Betting your network strategy on any one specific PON technology ensures a certain outcome – you will be rebuilding your network again in the future. Calix is committed to helping our customers build the last network they will ever need. Our latest announcements demonstrate that we are committed to delivering flexible solutions that give all of our customers the freedom to choose multiple PON technologies. All of our 10G solutions can easily scale up to create a future-proof network that addresses subscriber needs today and tomorrow."
Calix Inc. (NYSE: CALX)
Branimir Maric, CTIO at Slovak Telekom and T-Mobile Czech Republic, discusses the rise and future of the next-generation network, and the challenges and opportunities that are ahead.
ADTRAN kicks open the door to connected home opportunity for operators, integrating SmartRG into Mosaic Subscriber Experience Suite and debuting new products.
It would cost about $70 billion over 10 years to bring all-fiber fixed-access broadband to rural and small-town America, writes Fiber Broadband Association President and CEO Lisa Youngers in this month's exclusive BBWN column. The ROI? Priceless.
The industry association's latest iteration of its popular TR-069 standard was specifically developed to help providers remotely manage and control smart-home networks.
Cable operator's program for low-income households has sufficient speeds to support the needs of students, veterans, seniors and other consumers who qualify for the $9.95/month offering.



Slovak Telekom and T-Mobile Czech Republic Chief Technology and Information Officer Branimir Maric is using his more than two decades' experience in telco, including 15 years in various ...




Operators cannot protect networks -- their own or their customers -- by building a hard shell around the infrastructure, given the sensitive data dwelling and being sent to and from edge ...




Communications service providers have long talked about improving the day-to-day experience of their customers, but have not always backed up their words with actions and resources.

All Broadband World Forum Perspectives
All resources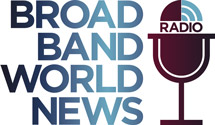 In this insightful Light Reading radio show, Kurt Raaflaub, Head of Strategic Solutions Marketing, will outline the key service provider challenges, deployment considerations, next-gen Gigabit technologies, and service models to win market share in the rapidly growing MDU market.
Wednesday, August 21, 2019
11:00 a.m New York./4:00 p.m.London
The cable industry took a major step in the battle for Gigabit broadband supremacy with the announcement of its 10G Platform vision. The key to realizing this vision hinges on leveraging the right access technologies and network architectures to provide the best balance of benefit versus cost.
One network path has the MSO embracing Next-Generation Hybrid Fiber Coax (NG HFC), which includes:
Distributed Access Architecture (DAA)
Node+0
Full Duplex DOCSIS (FDX)
Virtual Cable Converged Access Platforms (vCCAP)
Fiber-to-the-Home/Business (FTTH/B) is another network option, affording gigabit broadband scalability and 10Gbps service capability. How is an MSO to decide where which option works best and what to do now to prepare its networks for the onslaught of high-bandwidth residential and business applications?
During this webinar, Jack Burton, principal of Broadband Success Partners, outlines current and new access network architectures. Additionally, he will examine the facts and debunk some common misconceptions surrounding both fiber and NG HFC network deployment and maintenance.
Tuesday, September 10, 2019
12:00 p.m. New York / 5:00 p.m. London
Wi-Fi is the foundation of the connected home for consumers; yet, it's often a source of frustration. With the imminent release of the new Wi-Fi 6 standard – combined with a strong Managed Wi-Fi offer – service providers can reverse subscriber frustration while tapping into new revenue streams.
Key topics include:
What's different about Wi-Fi 6 and why it matters to your subscribers
The importance of offering Managed Wi-Fi and its connection to Wi-Fi 6
How you can elevate your brand and gain a strong foothold in the home network.