As COVID-19 closed schools and sent kids home, and as "screen time" became less a limited pleasure and more a required way of life, appetite for broadband has summarily increased.
A new research report from The Diffusion Group (TDG) shows that broadband appetite increased in April relative to the number of children at home.
While 7% of US households upgraded their broadband service in April, a further breakdown of those numbers shows that only 4% of broadband households without children under 18 at home upgraded their service.
"The upgrade rate was 2.4 times greater (at 9.7%) among single-child households, 3.4 times greater (13.7%) among two-child households, and 5.3 times greater (20.9%) among those with three or more children at home," states TDG in a press release on its study, which surveyed 1,995 US adult broadband users.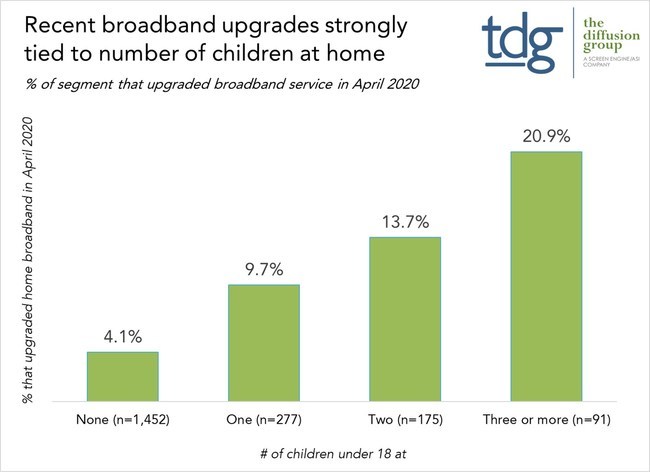 Of course, this is not to suggest that all kids stuck at home are getting the broadband access they need. Quite the opposite, as evidenced by children across the country sitting in cars straining to connect to Wi-Fi hotspots to try to attend classes and get homework done.
According to data published by the National Center for Education Statistics (NCES) in April 2020, 14% of children in the US ages 3-18 (or an estimated 9 million students) don't have Internet access at home, with 34% reporting being unable to afford it, 4% lacking a home computer and 4% lacking an Internet connection in their area.
— Nicole Ferraro, Contributing Editor, Light Reading