Deploying the Hybrid Access Network: GPON, FTTH & Gfast
Date:
Wednesday, March 7, 2018
Time:
11:00 a.m. EST / 4:00 p.m. London

Speakers
Alison Diana, Editor, Broadband World News

Stephanie Burris, Solutions Marketing Access & Fiber Monitoring Products, VIAVI Solutions

Lincoln Lavoie, Senior Engineer & Industry Lead UNH-IOL, and Board Member of Broadband Forum
Interoperability and field-test procedures accelerate time to revenue and ensure good service.
As fiber moves deeper into the access network and is married with Gfast copper technology to deliver gigabit services, there are several key test considerations that ensure success.
Attend this webinar and learn:
Advantages of combining GPON and Gfast
Gfast features
GPON construction and activation test
Upgrading and testing for Gfast
Speed testing to validate service and TCP efficiency
Alison Diana, Editor, Broadband World News


Alison Diana always dreamed of being a veterinarian – until she saw a documentary of a vet removing an alligator's eye. With a love of English but no desire to be a teacher, Alison had no idea what she would do until she earned a four-year, full-tuition journalism scholarship to the School of Visual Arts and fell in love with feature writing.

An internship at Rolling Stone encouraged Alison to mix her love of music and writing until she answered an ad in a local newspaper for a position at a B2B channel publication. And so her 25-year career covering solution and service providers; technologies from HPC and UC&C to cloud and security, and business began.

Alison spent 10 years at CRN, before launching a successful freelance career writing for publications including InformationWeek, VARBusiness, Redmond Channel Partner, numerous TechTarget sites, and Florida Today. She later rejoined UBM as part of the DeusM team before heading InformationWeek's health IT section. Alison – who lives on Florida's Space Coast with her husband, teen daughter, and two spoiled cats – became part of the Light Reading team as editor at The New IP. In late May of this year, she was named Ambassador of the New IP Agency, a not-for-profit independent initiative providing information, education, analysis, community services and testing to support and accelerate the development of a global economy based on open, advanced, virtualized IP networks.
close this window
Stephanie Burris, Solutions Marketing Access & Fiber Monitoring Products, VIAVI Solutions


Stephanie Burris is a Product Line Manager for the Access and Fiber Monitoring Product lines at VIAVI which includes xDSL, copper, fiber, and WiFi test. Stephanie is passionate about helping customers in the Access market because residential Broadband Services are so critical for users today. Stephanie has been helping customers with their communication test needs for 20 years through Product Management and Business Development roles with VIAVI, JDSU, Agilent, and HP. She holds an MBA from Thunderbird in international business and attended the University of Arizona, earning degrees in Finance and Marketing. Stephanie resides in the Boulder, Colorado area with her husband and two children.
close this window
Lincoln Lavoie, Senior Engineer & Industry Lead UNH-IOL, and Board Member of Broadband Forum


Lincoln Lavoie is a Senior Engineer for the University of New Hampshire InterOperability Laboratory (UNH-IOL), servers on its executive team, and the Broadband Forum Board of Directors. Lincoln brings 18 years of experience in working with and testing broadband technologies. With a career taking him from the early days of ADSL, through VDSL2, GPON, and most recently Gfast. Within the UNH-IOL, he oversees all Broadband and WiFi testing, including the Broadband Forum's "Gfast Certified" program.
close this window


Webinar Archive Registration
To register for this webinar, please complete the form below. Take care to provide all required information (indicated in
red
). Press
Register
to complete your registration. If you have already registered for our site or for one of our webinars, you may
login
to register without re-entering your information.
A report by a sustainability consulting firm, hired by CityFibre, determines Britain's lack of an all-fiber strategy restricts the nation's ability to reduce carbon emissions and reverse climate change. Your turn, BT.
Even though broadband penetration appears to be nearing the saturation point nationally, Comcast execs believe they still have plenty of room to grow.
A new study finds 75% of service providers expect all or most of their networks will be automated within a few years. This will help them meet enterprise SLAs but puts their vendors in direct competition with IT powerhouses.
Fiber-fed broadband service generates bigger customer gains for big US telco in the first quarter even as it keeps shedding more Fios video subscribers.
A private equity takeover of the UK fiber operator could help it to realize its FTTH plans and maintain pressure on UK broadband incumbents.
Wednesday, May 16, 2018
11:00 a.m. New York / 4:00 p.m. London
IPsec is an important security technology for virtually all communication service providers (CSPs). CSP requirements for IPsec are shifting away from proprietary gateways due to cost and other factors like vendor lock-in. CSPs now require high-performance IPsec on general-propose x86 servers as this move opens up their business to more vendors, and gives them greater control of their network, at a lower cost basis. CSPs are looking for IPsec vendor solutions where they can deliver server configuration options, which achieve their requirements for deployment in the central office as well as data center environments. This webinar will discuss IPsec performance on x86 COTS servers, covering:
Use cases for IPsec, including high-throughput data center interconnect, enterprise VPN and mobile backhaul
How high-volume enterprise IT economics can support a new cost model for high-performance IPsec
Brand-new performance test results showing IPsec on COTS can offer over 120 Gbit/s of bidirectional throughput on industry standard servers
The importance of selecting the right server to ensure high performance and manageability of CSP networks whether in the CO or the DC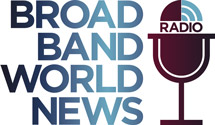 In this edition of BBWN Radio, Matthias Mieves, head of New Business, Sales and Marketing for Connected Home at Deutsche Telekom, will join BBWN Radio Editor Alison Diana to discuss the smart home market, the role of broadband and why service providers should roll out the welcome mat for this profitable market.
All resources
BT's Formula for F1 Success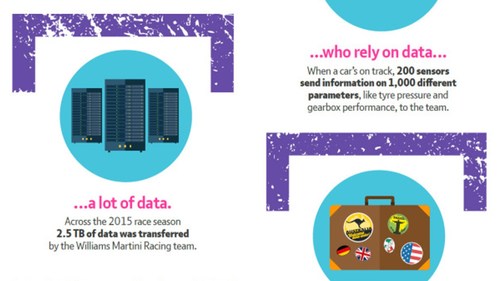 Infographics archive