Deploying the Hybrid Access Network: GPON, FTTH & Gfast
Date:
Wednesday, March 7, 2018
Time:
11:00 a.m. EST / 4:00 p.m. London

Speakers
Alison Diana, Editor, Broadband World News

Stephanie Burris, Solutions Marketing Access & Fiber Monitoring Products, VIAVI Solutions

Lincoln Lavoie, Senior Engineer & Industry Lead UNH-IOL, and Board Member of Broadband Forum
Interoperability and field-test procedures accelerate time to revenue and ensure good service.
As fiber moves deeper into the access network and is married with Gfast copper technology to deliver gigabit services, there are several key test considerations that ensure success.
Attend this webinar and learn:
Advantages of combining GPON and Gfast
Gfast features
GPON construction and activation test
Upgrading and testing for Gfast
Speed testing to validate service and TCP efficiency
Alison Diana, Editor, Broadband World News


Alison Diana always dreamed of being a veterinarian – until she saw a documentary of a vet removing an alligator's eye. With a love of English but no desire to be a teacher, Alison had no idea what she would do until she earned a four-year, full-tuition journalism scholarship to the School of Visual Arts and fell in love with feature writing.

An internship at Rolling Stone encouraged Alison to mix her love of music and writing until she answered an ad in a local newspaper for a position at a B2B channel publication. And so her 25-year career covering solution and service providers; technologies from HPC and UC&C to cloud and security, and business began.

Alison spent 10 years at CRN, before launching a successful freelance career writing for publications including InformationWeek, VARBusiness, Redmond Channel Partner, numerous TechTarget sites, and Florida Today. She later rejoined UBM as part of the DeusM team before heading InformationWeek's health IT section. Alison – who lives on Florida's Space Coast with her husband, teen daughter, and two spoiled cats – became part of the Light Reading team as editor at The New IP. In late May of this year, she was named Ambassador of the New IP Agency, a not-for-profit independent initiative providing information, education, analysis, community services and testing to support and accelerate the development of a global economy based on open, advanced, virtualized IP networks.
close this window
Stephanie Burris, Solutions Marketing Access & Fiber Monitoring Products, VIAVI Solutions


Stephanie Burris is a Product Line Manager for the Access and Fiber Monitoring Product lines at VIAVI which includes xDSL, copper, fiber, and WiFi test. Stephanie is passionate about helping customers in the Access market because residential Broadband Services are so critical for users today. Stephanie has been helping customers with their communication test needs for 20 years through Product Management and Business Development roles with VIAVI, JDSU, Agilent, and HP. She holds an MBA from Thunderbird in international business and attended the University of Arizona, earning degrees in Finance and Marketing. Stephanie resides in the Boulder, Colorado area with her husband and two children.
close this window
Lincoln Lavoie, Senior Engineer & Industry Lead UNH-IOL, and Board Member of Broadband Forum


Lincoln Lavoie is a Senior Engineer for the University of New Hampshire InterOperability Laboratory (UNH-IOL), servers on its executive team, and the Broadband Forum Board of Directors. Lincoln brings 18 years of experience in working with and testing broadband technologies. With a career taking him from the early days of ADSL, through VDSL2, GPON, and most recently Gfast. Within the UNH-IOL, he oversees all Broadband and WiFi testing, including the Broadband Forum's "Gfast Certified" program.
close this window


Webinar Archive Registration
To register for this webinar, please complete the form below. Take care to provide all required information (indicated in
red
). Press
Register
to complete your registration. If you have already registered for our site or for one of our webinars, you may
login
to register without re-entering your information.
Sky recently began exploring altnet wholesalers' high-speed, high-reliability network offerings, the next step in the Comcast-acquired provider's move to be more agile and customer-centric.
MSOs now have widely deployed DOCSIS 3.1 across North America, yet only a small percentage of consumers have subscribed so far. Light Reading Cable/Video Practice Leader Alan Breznick asks if it was worth the investment during this CNG2019 panel.
Some consumers blame everything bad on WiFi, but analytics provide MSOs with insight that can prevent problems and improve the customer experience, said panelists here at CNG2019.
Saudi Telecom is the most recent international wholesaler to join the organization, which soon plans to release a platform that allows carriers to anonymously compare themselves to competitors.
To encourage customer adoption and hide the sophistication and complexity of wide-area network technologies, Spectrum Enterprise deployed its SD-WAN offering as an end-to-end managed service.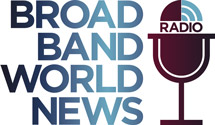 Tune in to Broadband World News Radio on February 14 at 11 a.m. ET / 8 a.m. PT / 4 p.m. UK when John Isch, Practice Director of the Network and Voice Center of Excellence at Orange Business Services, discusses use cases, ROI and misconceptions of software-defined wide-area networks, virtualization and cloud.
All resources
Wednesday, December 12, 2018
12 p.m. New York / 5 p.m. London
Consumers are buying millions of IoT devices, from smart thermostats and security systems to intelligent entertainment setups and furniture. Yet many of these devices remain isolated because home users are uncomfortable connecting them to each other – or even their WiFi. After all, their WiFi network was probably designed only to handle a few laptops, a gaming system and a couple of smartphones. Now, demand on the network is surging and even though you're delivering 100 Mbps to 1 Gbps, that doesn't necessarily mean the broadband power is in the right place or reaches every corner of a home.
Even if WiFi coverage is sufficient, typing is not on trend. Voice is far more natural, easier and faster. Using a TV keyboard is archaic when more and more households have access to cloud-based voice services, like Amazon Alexa. This webinar will explore how service providers can create a comfortable, truly smart home for consumers – simultaneously driving up margin and loyalty.
BT's Formula for F1 Success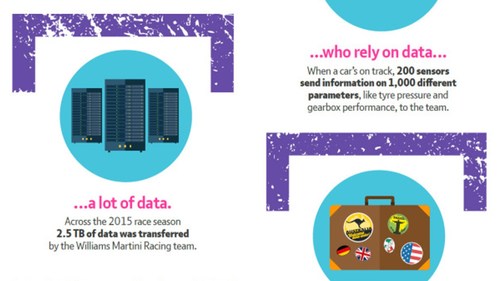 Infographics archive