Fiber Monitoring: Improving Profits, MTTR, and Security
Date:
Wednesday, May 16, 2018
Time:
11:00 a.m. New York / 4:00 p.m. London

Speakers
We will explore several fiber network environments, common vulnerabilities, and the business impact of failures. Fiber networks are typically a combination of owned and leased fiber. Learn how to reduce MTTR by up to 60% when an event occurs and how to detect degradation before it generates a service impact. Fiber monitoring of leased fiber helps ensure that the responsible party is dispatched for repair and SLAs can be managed. We will discuss both in service and out of service monitoring. Learn about the opportunities to improve business results in the following environments:
Hyperscale datacenters- the business need for near 100% uptime
5G small cell combined with leased fiber - ensuring the SLA for leased fiber
Long haul and Metro dark and lit fiber monitoring - reducing MTTR and preventing damage
FTTX construction and service activation in the access or MSO network - accelerating time to revenue
Security- preventing fiber tapping and data theft
Alison Diana, Editor, Broadband World News


Alison Diana always dreamed of being a veterinarian – until she saw a documentary of a vet removing an alligator's eye. With a love of English but no desire to be a teacher, Alison had no idea what she would do until she earned a four-year, full-tuition journalism scholarship to the School of Visual Arts and fell in love with feature writing.

An internship at Rolling Stone encouraged Alison to mix her love of music and writing until she answered an ad in a local newspaper for a position at a B2B channel publication. And so her 25-year career covering solution and service providers; technologies from HPC and UC&C to cloud and security, and business began.

Alison spent 10 years at CRN, before launching a successful freelance career writing for publications including InformationWeek, VARBusiness, Redmond Channel Partner, numerous TechTarget sites, and Florida Today. She later rejoined UBM as part of the DeusM team before heading InformationWeek's health IT section. Alison – who lives on Florida's Space Coast with her husband, teen daughter, and two spoiled cats – became part of the Light Reading team as editor at The New IP. In late May of this year, she was named Ambassador of the New IP Agency, a not-for-profit independent initiative providing information, education, analysis, community services and testing to support and accelerate the development of a global economy based on open, advanced, virtualized IP networks.
close this window
Stephanie Burris, Solutions Marketing Access & Fiber Monitoring Products, VIAVI Solutions


Stephanie Burris is a Product Line Manager for the Access and Fiber Monitoring Product lines at VIAVI which includes xDSL, copper, fiber, and WiFi test. Stephanie is passionate about helping customers in the Access market because residential Broadband Services are so critical for users today. Stephanie has been helping customers with their communication test needs for 20 years through Product Management and Business Development roles with VIAVI, JDSU, Agilent, and HP. She holds an MBA from Thunderbird in international business and attended the University of Arizona, earning degrees in Finance and Marketing. Stephanie resides in the Boulder, Colorado area with her husband and two children.
close this window
Jon Lundberg, Regional PLM, VIAVI


Jon Lundberg is a VIAVI Regional PLM, responsible for VIAVI's field fiber test portfolio in North America. Prior to VIAVI, he spent several years in semiconductor sales focused on the telecom/datacom markets. He started his career at Boeing as a flight controls system design engineer.
close this window


Webinar Archive Registration
To register for this webinar, please complete the form below. Take care to provide all required information (indicated in
red
). Press
Register
to complete your registration. If you have already registered for our site or for one of our webinars, you may
login
to register without re-entering your information.
Kirsten Rundberget, open strategy lead at Fujitsu Network, discusses the industry's advances — and challenges — in the complex yet beneficial area of open technologies, and why service providers should get involved, even if they don't yet plan to deploy.
Cable operators must know their enterprise strategy and play to their strengths by aiming for specific customer types or by thoroughly covering vertical industries.
Nokia's long-time head of fixed networking gear has been given a new role at the vendor, but his replacement hasn't been named.
South Korean operator says it can offer Gigabit broadband services over twisted copper pairs in multi-dwelling units using HFR boxes that house Sckipio's 212MHz Gfast technology.
By thinking green, vendors can help save the environment and reduce operators' energy bills – perhaps by a lot.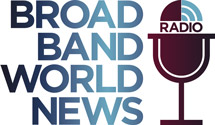 Tune in to Broadband World News Radio on Thursday, November 1 at 8 a.m. PT, 11 a.m. ET, 3 p.m. UK as Ronan Kelly, CTO, EMEA & APAC Regions at ADTRAN, explores the five pillars of network integrity -- a topic he discussed during his recent Broadband World Forum keynote. Register now!
All resources
Thursday, September 27, 2018
2:00 pm ET / 11:00 am PT
Fast, reliable broadband is essential to how we live, work and play today – and the upcoming arrival of 5G will only further increase demand and reliance on fiber infrastructure. Already viewed by consumers as intolerable, delays, outages or the regular maintenance difficulties associated with operating a network will become further exacerbated when residential subscribers further rely on connected devices for day-to-day life. Just as providers deploy network automation tools to reduce operational issues, they must take similar care to manage consumer expectations when they roll out fiber or new services. This webinar features leaders who will discuss how to manage marketing and consumer expectations at every stage of the network lifecycle. Marketing professionals, c-level executives and policymakers interested in drumming up fiber envy should attend.
BT's Formula for F1 Success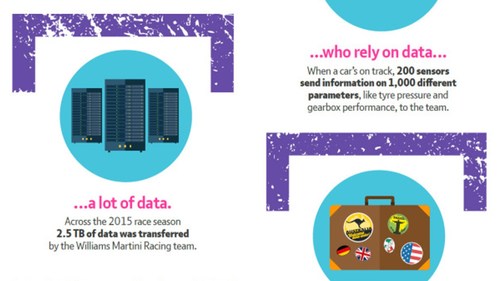 Infographics archive