Broadband paramours Vodafone and CityFibre are to roll out a £40 million ($55 million) fiber-to-the-premises network in the UK city of Milton Keynes -- famous for its concrete cows, ruler-straight roads and rubbish broadband.
The two companies teamed up last year in a challenge to UK broadband incumbent BT Group plc (NYSE: BT; London: BTA), which, via its Openreach unit, has been providing wholesale network services to Vodafone UK and other retail service providers in the British market. (See Eurobites: Vodafone Goes Hand in Glove With CityFibre, Lays Down the Gauntlet to BT.)
Unhappiness with Openreach's performance, and frustration with the lack of higher-speed fiber infrastructure across much of the country, drove Vodafone into the arms of CityFibre, a fiber access network specialist that is building gigabit-speed wholesale networks in UK towns and cities.
The partners said in November they would extend fiber to about 1 million homes by 2021, investing as much as £500 million ($693 million) in the rollout. In future they may consider further extending the scheme to cover up to 5 million premises by 2025.
Milton Keynes becomes the first of about 12 cities in which Vodafone and CityFibre will roll out fiber-based services.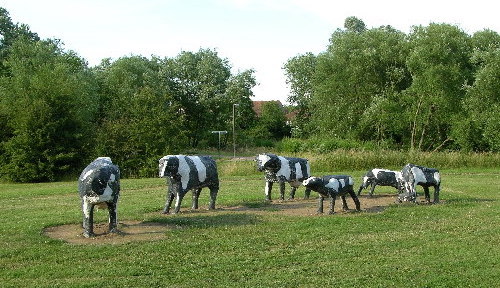 CityFibre has indicated it will invest about £40 million ($55 million) in Milton Keynes and start building new infrastructure in March. It has not said when it will complete the rollout but aims to provide 1Gbit/s access to "nearly every business and home."
The first "live" services offered by Vodafone are due to become available later this year, said the companies, without providing further details about any planned offerings.
Milton Keynes appears to have been selected as one of five so-called "fast growth cities" in the UK, with recent growth in population and employment and high levels of productivity. Reports also suggest that existing broadband services in Milton Keynes are among the worst in the country, with residents receiving average speeds of 26.6 Mbit/s against a national average of 44 Mbit/s.
The relatively aggressive timetable for the initial service launch will add to the pressure on BT, which had a torrid 2017 marked by an accounting scandal in Italy and weak conditions in some of its public sector and corporate markets. (See Eurobites: BT's Italian Trials Not Over Yet.)
Fueled by consumer interest in mobile, broadband and TV services, BT's consumer business has been a relative high flyer in the group. But the operator has also faced growing complaints about its dominant infrastructure position, as the country's only nationwide network operator, with retail rivals often moaning about the terms of their wholesale arrangements with BT.
At the same time, BT has been under political pressure to invest in higher-speed networks out of concern the UK could fall behind other parts of Europe without more funding for FTTP infrastructure. CityFibre and Vodafone estimate that only 3% of homes can access FTTP services.
Regulators last year forced BT to carry out a "legal separation" of its Openreach infrastructure unit, running this at arm's length from the rest of the BT group. That move, it is hoped, will improve competitive conditions and spur investment.
Under older plans, BT aims to use a technology called Gfast, which boosts connection speeds over its last-mile copper loops, to improve services for about 10 million UK premises by 2020. It has said it will connect another 2 million homes and businesses to FTTP networks by the same date.
However, Gfast will only support connection speeds of about 300 Mbit/s, far less than the 1 Gbit/s that Vodafone and CityFibre are promising to Milton Keynes residents.
During a conference in Berlin in October, Openreach chairman Mike McTighe said the operator was keen to build a more extensive FTTP network if it could the right investment partners and with an appropriate regulatory framework. (See Openreach Needs Fiber Partners for UK Rollout, Says Chairman.)
The tie-up between Vodafone and CityFibre comes as a blow to BT's ambitions and wholesale business: Its retail business could feel the heat when Vodafone starts offering FTTP services later this year.
— Iain Morris, News Editor, Light Reading