VALENCIA -- FTTH Conference 2018 -- International network operator Altice has pinned its flag to the NG-PON2 mast as its prepares for a 5G world of potentially overwhelming data traffic volumes and disaggregated radio access network architectures.
Talking here in Valencia today, José Salgado, network system development manager at Altice Labs, laid out the operator's vision for supporting 5G services with an integrated access network rollout strategy that will support residential, enterprise, backhaul and fronthaul service requirements -- a strategy that can "save deployment costs in the access [and promote a] positive business case for fiber" as an enabler of 5G as well as other important services.
Salgado noted "5G will be the most important driver for NG-PON2," which operators will need to carry different service types over different wavelengths. Altice plans to upgrade its existing fiber access networks and believes it will need the full capabilities of NG-PON2 -- a potential 10 Gbit/s symmetrical over eight wavelengths -- to meet the needs of the most demanding urban deployments of 5G small cells alongside enterprise and residential broadband demands.
Salgado highlighted the benefits of NG-PON2 that others such as Verizon have long promoted -- it can co-exist with other 'flavors' of PON, enabling the reuse of existing optical distribution network (ODN) elements; colorless optical network units (ONUs) that can be tuned to any assigned channel, and tunable lasers, the capability to support different services on separate wavelengths -- but stressed the applicability of NG-PON2 to fronthaul, the transport link between remote radio head units (RRUs) and the baseband unit (BBU) that sits between the optical line terminal (OLT) and the metro IP/MPLS network.
Other flavors of PON (XGS-PON and GPON) are capable of supporting backhaul, enterprise and residential services, but 5G fronthaul will need NG-PON2 to enable (up to) 20 Gbit/s links between the BBU and RRUs, according to Altice.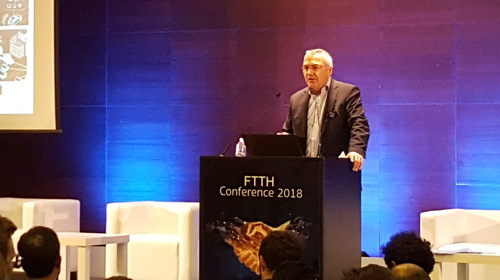 That will be music to the ears of Verizon and other NG-PON2 supporters, as they need as many operators supporting the emerging broadband technology as possible to help enable economies of scale and make NG-PON2 affordable for mass deployment.
Altice believes NG-PON2 will be ready for prime-time deployment by 2020, when 5G deployments will begin in earnest and Salgado fully expects the technology to be rolled out in Altice's networks in France -- the country's second largest mobile operator, Numericable-SFR, is part of the Altice group -- and Portugal, where PT's Meo brand is the country's mobile market leader.
NG-PON2 has a lot of attributes that attract large operators but the potential cost of deployments has been a major stumbling block. Verizon has been the main operator poster boy for the technology and has committed to a commercial deployment this year, though there has also been significant support from major operators in Asia. (See Verizon, Calix Deploy Commercial NG-PON2 and CSP Execs: NG-PON2 Delivers.)
— Ray Le Maistre, Editor-in-Chief, Light Reading for Broadband World News