Even as the broadband world busts a gut to deploy fiber, there's still room for other technologies to play a role in the provision of high-speed broadband access services, as SK Broadband in South Korea is showing with its deployment of network equipment that includes new-generation Gfast technologies developed by Sckipio Technologies. (See SK Broadband, Sckipio Claim Gigabit Speeds With Gfast .)
The operator is claiming the first commercial deployment of 212MHz Gfast (second generation) technology in Asia, having deployed access network equipment from local vendor HFR Inc. in the capital Seoul and in Seongnam, South Korea's tenth largest city. That DPU (distribution point unit) equipment, which can serve 24 subscriber lines from each physical box, includes Sckipio's chipset technology.
Like many other operators around the world, SK Broadband, a subsidiary of SK Telecom with about 5.6 million high-speed broadband customers, wants to mix and match access technologies to suit specific deployment characteristics and keep capex to a minimum without sacrificing service quality. And while many buildings in South Korea have fiber to the building, they don't have fiber ready-installed through the building itself.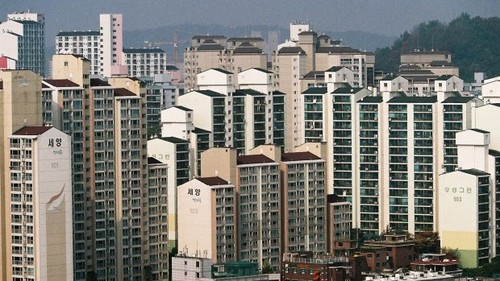 "SK Broadband is determined to provide gigabit internet to all, but not all South Korean apartments can be easily wired with fiber all the way to the apartment," noted Choong-Bok Lee, access networks manager at SK Broadband. "That's why we chose Sckipio's Gfast. It's the best way to extend gigabit fiber performance to these apartments over existing twisted pair telephone wires," he added in a prepared statement for a media release.
Sckipio claims its Gfast technology enables SK Broadband to attach four of HFR's DPU boxes to the same copper line binder, enabling a single deployment of those units to provide services of up to 1 Gbit/s to 96 subscribers: Sckipio claims market leadership in this regard thanks to the development of cross-DPU vectoring capabilities announced last year. (See Sckipio Claims World-First on 96-Port Gfast DPU.)
"This deployment demonstrates Gfast technology's use case to deliver gigabit service to large apartment environments without needing to install fiber connections to each apartment," noted Sckipio's jazz-loving CEO David Baum.
The announcement is a compelling one but falls short in providing some key metrics, particularly the distance over which a Gigabit service can be delivered using the HFR/Sckipio equipment in a multi-dwelling unit: While second-generation Gfast has far greater bandwidth/distance capabilities than the initial 106 MHz Gfast iteration of the technology, it is still distance-limited. Gigabit services may well be possible but would that be the case for ever subscriber in a high-rise apartment block?
There's no doubt, though, that this is a minor coup for Sckipio, an Israeli startup that has focused on Gfast developments since its inception and which raised additional funding earlier this year. (See Gfast Chip Specialist Sckipio Raises $10M.)
The other key example of a non-fiber, new-generation broadband access technology right now is, of course, the 5G-based fixed wireless broadband option that Verizon and others are bringing to market and which, depending on who you talk to, is bad news for the cable operators or something of a red herring.
— Ray Le Maistre, Editor-in-Chief, Light Reading, special to Broadband World News