A further £250 million (US$327 million) of potential investment in new access network fiber infrastructure has been unveiled this week following the acquisition (for an undisclosed sum) of broadband startup Swish Fibre by Fern Trading Ltd.
The acquisition and investment was announced on December 17 and followed swiftly by details, released today, of further details about the plan to build a 10Gbit/s fiber access network to 250,000 properties, starting with 50,000 homes in 11 locations west of London (see this press release for the list of towns).
Initial network design processes are already underway in some of those locations and the company expects to start laying fiber early next year, building new ducts as well as using Openreach PIA (Physical Infrastructure Access) assets. (As a reminder, Openreach is the semi-autonomous access infrastructure division of UK incumbent operator BT Group.)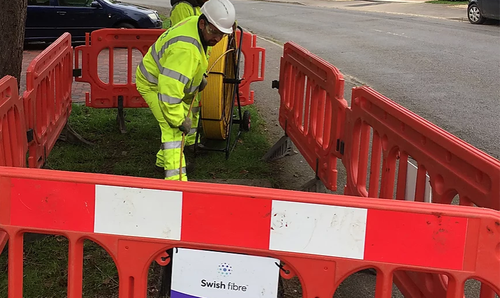 The move is significant not only because it adds to the growing number of companies finally bringing alternative fiber access infrastructure to the UK (a trend arguably kickstarted by CityFibre), but because it also signals the willing of investment companies to target their funds at British fiber builds. Fern Trading is a portfolio company managed by Octopus Investments (with funds coming from the Octopus Inheritance Tax Service), and this is not the first time Octopus has advised the Fern Trading team to invest in a UK FTTH startup.
Fern is better known for its investments in renewable energy and property, but is now also turning its attention to digital network projects: Earlier this year it acquired Jurassic Fibre, another British FTTH new entrant focused on delivering Gigabit broadband to the often neglected south-west region of the UK. "Jurassic Fibre has raised substantial funds from Fern Trading Ltd, advised by Octopus Investments, to build and operate a fibre-to-the-premises network across the South West of England," the wonderfully named operator notes on its website. "We are planning to invest over £250 million into building a fibre network in Devon, Dorset and Somerset, passing over 300,000 homes, making gigabit speeds a reality."
The Jurassic team has already started building its network, starting in East Devon, and has just announced an agreement with South West Communications Group (swcomms) to house its main technical facility in swcomms' data center in Sowton, Exeter.
As for Swish, it is continuing with its network planning and is currently in the final stages of a couple of RFP processes, including one to source its XGSPON-enabled OLTs.
— Ray Le Maistre, Editor-in-Chief, Light Reading