Orange ramped up its FTTH customer base in 2019 to become Europe's "undisputed leader in fiber," the giant operator claimed Thursday as part of its full-year 2019 financial results presentation.
The operator said it had 7.3 million fiber broadband customers in Europe at the end of 2019, a figure that makes it "the undisputed leader in fiber in Europe."
That number was boosted by the addition of 745,000 FTTH customers in France during last year, taking the total to 3.3 million. During the fourth quarter alone, Orange said it added 239,000 FTTH customers in France and 47,000 in Poland, record quarterly fiber broadband additions in those markets.
It has a lot of potential for FTTH growth in France, too: At the end of last year it had laid fiber to 16.3 million "connectable households."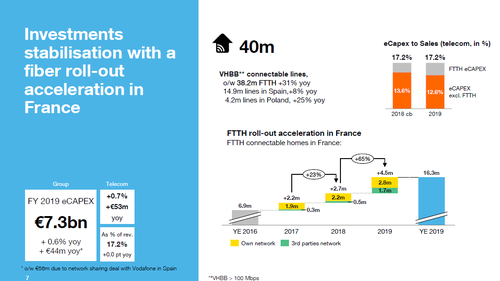 In total, across all markets, Orange ended 2019 with 7.8 million fiber broadband customers, up by 23% year-on-year.
Across all fixed broadband technologies (including xDSL), Orange ended 2019 with 20.7 million customers, up by 2.7%.
For the full year, Orange reported revenues of €42.24 billion (US$45.9 billion), up by 0.6% on a comparable basis to the year before. Its Africa & Middle East business had a particularly good year. (See Africa remains growth driver for Orange.)
The operator, which is active in multiple markets across Europe, the Middle East and Africa, ended 2019 with more than 265 million customers in total. For more on its business and financial performance, see this press release.
— Ray Le Maistre, Editor-in-Chief, Light Reading, special to Broadband World News