Bandwidth growth is driving the rollout of larger network capacities at most communication service providers, a new report by Viavi Solutions finds.
In its "State of the Network" study 2017, Viavi finds that almost two thirds of respondents predict their networks' bandwidth demand will grow up to 50% this year. And more than 50% expect bandwidth usage could double by the end of next year, compared with 20% who believe they'll see bandwidth double by year's end, says Viavi Solutions Inc.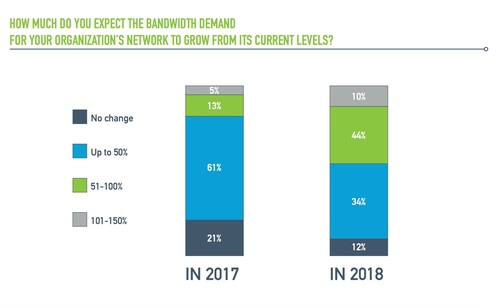 As a result, latency and delay issues concern 53% of network and system administrators, compared with 51% of vice presidents and above, according to the study of 1,035 respondents.
To address increased capacity, businesses are investing in cloud and 100GbE deployments. For the last two years, 40GbE adoption remained constant at 26% -- but organizations are more rapidly implementing 100GbE, skipping 40GbE altogether and moving to 20% from 15% within the same timeframe, the report finds. Almost half of respondents plan to deploy 100GbE within the next two years, they told Viavi.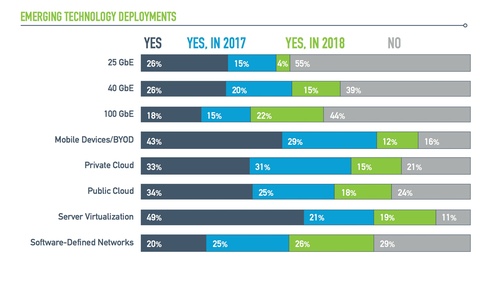 While latency is a concern, the biggest technical challenge -- according to 52% of respondents -- is locating the source of a problem, and determining whether it's located in the network, system or application, the report finds.
Related posts:  
  — Alison Diana, Editor, UBB2020. Follow us on Twitter @UBB2020 or @alisoncdiana.