Recent reports once again toll the bell for pay-TV services as consumers continue to unplug in favor of over-the-top offerings. So why do operators keep pouring money into infrastructure, content and services to keep existing customers and try to attract new subscribers?
In short: Because they must, to remain competitive. The longer answer: Operators expect the situation will change with the arrival of virtual reality, augmented reality and 4K displays, among other services. How else to explain service providers' continued investment in content, such as Orange's content partnerships with HBO in France, Luc Besson's movie Valerian and the City of a Thousand Planets and various sporting events, Verizon's arrangement with Hearst Media, among others, and Charter's exclusive content deal with AMC.
"This... furthers Charter's goal of providing its customers with world class products and services," said Tom Montemagno, executive vice president of Programming Acquisition for Charter Communications, in a statement. "AMC Networks is one of the most respected producers of high-quality original programming in the business and we are proud to partner with them to identify, develop and produce original content that will further differentiate our customer experience and the value we provide in a competitive marketplace."
Traditional content providers should retain their overall lead, said Ian Olgeirson, research director, S&P Global Market Intelligence, in
a statement
. "Changing viewing habits point to mounting losses for traditional video services, and challengers are lining up to capitalize," he said. "However, the operators are not without significant fortifications enabling expectations for preserving a majority share in the five-year outlook."
Show me the numbers
Partnerships aside, traditional multi-channel subscriptions continue to decline, dropping 10.8 million households to 82.3 million residences by 2021, S&P predicts. Virtual services from the likes of Sling TV and PlayStation Vue will represent about 11 million homes in five years, according to its research. And 14% -- or almost 18 million -- of households will exclusively use OTT delivery for self-aggregated online content, the report found.
"While households with a traditional multichannel subscription are positioned to remain in the solid majority in the five-year outlook, upward momentum lies firmly with alternative services; the combined account for a non-multichannel tally is on pace to exceed one quarter of occupied households in 2017 and peak one third by 2021," S&P wrote.
There are a growing number of niche OTT services vying for consumers' free time, said Bruce Leichtman, president and principal analyst at Leichtman Research Group in the firm's Research Notes for 2Q 2017. The top three of these services -- which include Sling RV , Playstation Vue, DirecTV Now (plus YouTube with Live TV and Hulu with Live TV) -- accounted for more than 2 million subscribers at the end of the first quarter of 2017, he said. Typically offering fewer channels, these OTT services provide consumers with a lower-cost alternative, said Leichtman.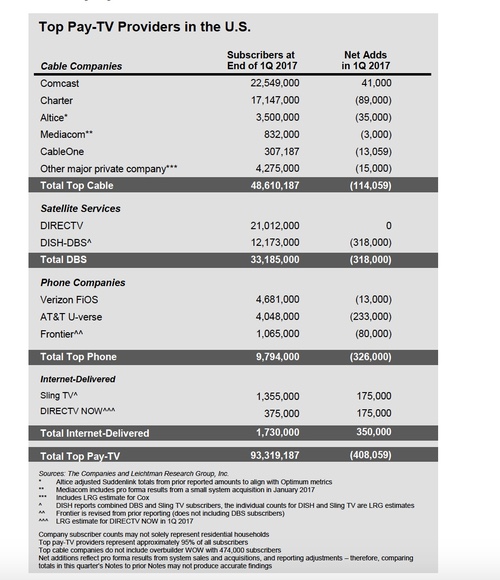 Internet-based TV providers' growth comes at the expense of pay-TV providers; the top operators, which account for about 95% of the market, lost approximately 410,000 net video subscribers in the first quarter of this year versus a gain of about 10,000 new subscribers in the first quarter of 2016, according to Leichtman. The top six cable operators lost 115,000 subscribers in the past quarter; in the prior period one year ago, they gained 50,000 customers, the research found. Combined, the top pay-TV operators represent 93.3 million subscribers; the top six MSOs account for about 33.2 million customers.
The satellite front is even gloomier. In the first quarter 2017, they lost 320,000 subscribers versus an addition of 50,000 customers in the first quarter 2016. Satellite providers represent about 33.2 million subscribers, Leichtman found.
Turning to communication service providers, which account for 9.8 million subscribers, they lost approximately 325,000 video subscribers last quarter, slightly less than the 350,000 subscribers lost in the same period 2016, the report said.
On the other hand, Internet-delivered services (such as Sling TV and DirecTV Now) added about 350,000 subscribers in the most recent quarter, almost triple the 130,000 additions in the first quarter of last year, according to the researcher.
"The pay-TV market lost about 410,000 subscribers in the first quarter of 2017. This marked the first time that the industry has ever had net subscriber losses in the first quarter of a year," wrote Leichtman. "The decline in subscribers should not be interpreted as solely driven by a sudden increase in consumers disconnecting services. The net losses are also a function of a decrease in new connects, partially due to some providers less aggressively pursuing lower value customers than in the past."
Related posts:  
    — Alison Diana, Editor, UBB2020. Follow us on Twitter @UBB2020 or @alisoncdiana.