The United States ranked number 21 in a worldwide broadband speed test, behind nations such as Estonia, Romania and Macau.
In the test, conducted by Cable.co.uk, Singapore, Sweden and Taiwan took the top three spots. The ranking of 189 countries found Burkina Faso, Gabon and Yemen at the lowest end of the speed spectrum.
The US had an average speed of 20 Mbit/s, according to the report, which analyzed data collected by M-Lab, a partnership between New America's Open Technology Institute, Princeton University's PlanetLab and Google Open Source Research. It takes an average of more than 51 minutes to download a 7.5GB movie, the report determined.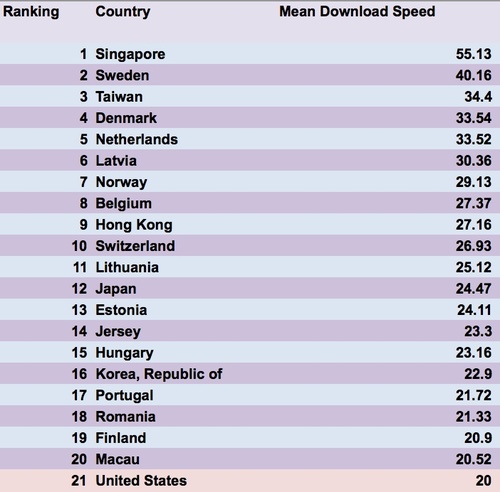 By comparison, the average US Internet connection speed reached 18.7 Mbit/s in Akamai's first-quarter 2017 State of the Internet study. (See
US: We're on the Road to Gigabit
.)
That is below the Federal Communications Commission's broadband speed definition of 25 Mbit/s -- a speed already under condemnation by some politicians and activists.
For the US, M-Lab used more than 9 million distinct IP addresses and more than 45 million tests. By the end of the first quarter of 2017, there were 93.9 million fixed broadband subscribers in the US, according to Statista.
Related posts:
— Alison Diana, Editor, UBB2020. Follow us on Twitter @UBB2020 or @alisoncdiana.