Broadband World News this week debuts BBWN Radio, a monthly show that brings the voices of leading telco and cableco executives to the IP airwaves.
The show starts on Wednesday, Feb. 7 at 11:00 a.m. EST / 8:00 a.m. PST / 4:00 p.m. GMT with Andrew Dugan, senior vice president of Network Architecture at CenturyLink. Many will remember Dugan as chief technology officer at Level 3. CenturyLink completed its acquisition of Level 3 in November 2017.
Of course, I'll ask Andrew about post-acquisition life and his new role at the larger company. But the main focus of the conversation will be on SD-WAN and its role in broadband infrastructure's success today -- and tomorrow. A long-time advocate of SD-WAN, Dugan led Level 3's early adoption of the technology and now plays a key role in CenturyLink's ongoing deployment of software-defined wide-area networks.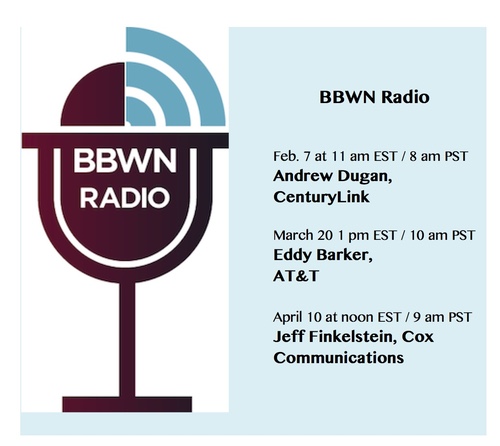 During BBWN Radio's kickoff show, Andrew will share the benefits of SD-WAN, why it's such a transformational technology and why he and CenturyLink are such firm believers that service providers and their customers can (and should) deploy SD-WAN today. Bring your questions to get answers from one of the industry's most knowledgeable SD-WAN experts.
Last time I spoke to Andrew, it was for an on-camera interview when he was still with Level 3. For some reason, the camera didn't record, and when we discovered the error, Andrew had already left the hotel en route to the airport for his flight to another conference. Upon getting a frantic text from his public relations person, he ignored his crammed schedule, had the cab turn around and kindly redid not just my video, but also the interview with colleague Carol Wilson as well: insightful and kind. (Check out the end result "Level 3's Dugan: Building on SDN Success")
Register and tune in right here.
On the schedule
In the next couple of months, we have executives lined up from AT&T and Cox Communications.
On March 20 at 1:00 p.m. EST / 10:00 a.m. PST / 6:00 p.m GMT, join Assistant Vice President of Technical Design and Architecture at AT&T Labs Eddy Barker, who oversees network architecture for the service provider's fixed access broadband platforms to support wireline and wireless operations. During his guest appearance, Barker will discuss AT&T's work with standards organizations, open communities and results such as ONAP.
A real technologist's technologist, Eddy manages to translate in-the-weeds concepts into business-speak and, most importantly, business benefits. No doubt that's one reason AT&T's standards and open source initiatives have gone far. Any time I speak to Eddy I am far more comfortable in the technology under discussion, no matter how esoteric or new.
While I have not yet met our April 10 BBWN Radio guest Jeff Finkelstein, executive director of Advanced Technology of Cox Communications, he's a go-to source for many of my Light Reading colleagues for insight and event presentations. An article he wrote for Broadband Library, "E = MC2 (Energy = Milk * Coffee2)," really piqued my interest; after reading it, I immediately invited him to be a BBWN Radio guest and was delighted when he said yes soon after.
The article -- which cites Oscar Wilde and includes a picture of Van Gogh's "Sunflowers" (two personal favorites) -- focuses on some of Jeff's approximately 24 "rules" that he's come up with over the past 37 years while "trying to explain things or learn how to provide architectural guidance," he wrote. It's definitely worth a read.
No doubt his appearance on BBWN Radio on April 10 at 12:00 p.m. EST / 9:00 a.m. PST / 5:00 p.m GMT will be worth a listen too. We'll discuss simplicity at the network's edge, including automation and agility.
I hope you can join us for these -- and future -- shows. If you'd like to suggest a service provider executive who'd be a great guest, email me at: [email protected].
Related posts:
— Alison Diana, Editor, Broadband World News. Follow us on Twitter or @alisoncdiana.