Under FCC chairman Ajit Pai, the United States is -- as President Trump might say -- winning bigly. By whose measure?
Pai's policies have, the report says, improved competition and investment in broadband. In particular, the report points to Pai's rollback of net neutrality in December as the reason so many cable and telecom operators are heavily investing in infrastructure. (See So Long, Net Neutrality.)
Because of Title II's demise, the market is "already responding to the more deployment-friendly regulatory environment now in place," the report says, ignoring the fact that many broadband deployments actually began in 2015 -- long before Trump or Pai governed, as an Ars Technica piece details.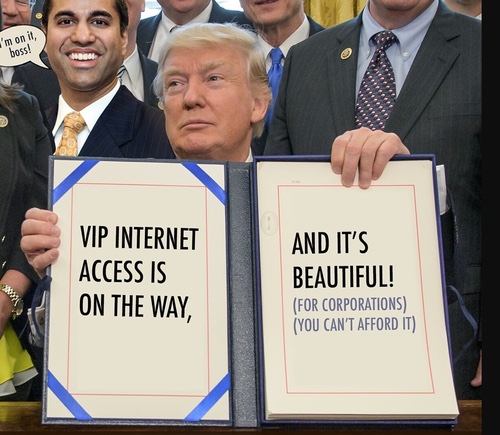 Also disturbing is the FCC report's continued self-inflicted blindness about the nation's broadband standard. The agency insists on putting "high speed" and "25 Mbps/3 Mbps" in the same sentence. That lack of awareness became even more frightening when coupled with the following dated statement:
"For example, WISPA states that the current speed benchmark of 25 Mbps/3 Mbps enables Americans 'to watch Netflix, play video games and browse online without interruption even if a couple of devices are on the same connection."
This is not a dig at WISPA -- an advocacy organization for wireless service providers and ISPs -- which most likely wrote that description at least three or four years ago. (Despite an advanced search of WISPA's site and a Google search, I could not find the quote, which was attributed to WISPA without a URL in the FCC's paper.)
This is a dig at the government for using a standard that an industry organization demonstrates is not capable of handling the modern household's connected needs. To meet demand and drive the economy forward, fulfill residents' educational requirements and ease the burden on the healthcare community while reducing costs and improving outcomes via telemedicine, broadband service must be built to a higher standard.
Even if the entire country was blanketed by 25/3 coverage, the US wouldn't be winning bigly. To truly make America Broadband great, it needs nationwide symmetrical speed capable of doing all the amazing things people want to do while connected -- from transmitting cat videos to CAT scans and everything in between.
Related posts:
— Alison Diana, Editor, Broadband World News. Follow us on Twitter or @alisoncdiana.
(Home page art source: Vipervoid47, Memedroid)