This spring, the British government will spend £95 million ($133 million) -- half the £190 million ($266 million) allotted for fiber in the nation's fall budget -- on FTTP for 13 projects designed to deliver gigabit speeds around the country.
The number of FTTH/B connections across Europe grew 20.4% in the year ended September 30, 2017 -- accounting for about 51.6 million subscribers -- according to a report by IDATE for the FTTH Council Europe. For the first time, Ireland made the rankings; Britain didn't even make the list of 22 countries. (See Europe's FTTH/B Connections Grow 20% – Report.)
Indeed, while 95% of UK premises "can now get superfast broadband, only 3% have access to gigabit-capable full fiber infrastructure," the British government wrote in a press release this week. The £190 million Local Full Fibre Network (LFFN) budget will fund projects designed to "stimulate the market by making the deployment of gigabit-capable full-fiber infrastructure more commercially viable," the release said.
Spread across the UK -- from Northern Ireland to Wales, from Scotland to Southern England -- the projects include hospitals and healthcare facilities; schools, libraries and emergency response centers, and repurposing of existing infrastructure to incorporate full fiber.
The details
North Yorkshire County Council and its wholly owned company NYnet, which garner £15 million from the program, will connect about 400 public-sector sites across 16 towns. The next step, the North Yorkshire County's member for broadband told the Harrogate Advertiser, is to procure the necessary technologies and begin deployment in 2019.
Across social media, service provider and local government officials proclaimed their joy at the investment.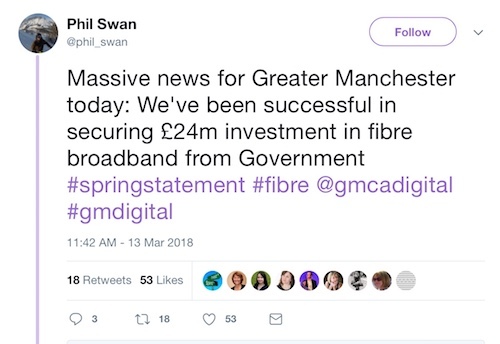 "Excellent collaboration by these key agencies to bring additional infrastructure investment to the Highlands. We'll be delivering more pure fiber to businesses as a result,"
tweeted David Alldritt
, technology and innovation director at HighNet Telecoms.
But some worry the funds are too little, too late, to meet Britain's digital transformation needs in a world where many countries already have full fiber networks deployed or well underway. LFFN is part of a fund already used to finance a £10 million pilot of 1Gbit/s capable FTTP/H broadband across six UK regions, according to Kitz UK. Despite the initial pilots' goal to create more connections to local residences and businesses, the program did not meet expectations, the post said.
Related posts:
— Alison Diana, Editor, Broadband World News. Follow us on Twitter @BroadbandWN or @alisoncdiana.