After six years, the Mozilla Foundation on Monday handed out the last 14 prizes of its $1.2 million Gigabit Community Fund, wrapping up this portion of its ongoing effort to support and demonstrate the benefits of high-speed broadband networks.
The Gigabit Community Fund, launched in 2012, was funded in part by the National Science Foundation and U.S. Ignite. It was designed to financially support education organizations in at least five cities annually with broadband networks of at least 1 Gbit/s. Winners used these high-speed networks to test out technologies such as virtual reality, augmented reality, 4K video and artificial intelligence.
"We committed to supporting promising projects in gigabit-enabled US cities -- projects that use connectivity 250-times normal speeds to make learning more engaging, equitable and impactful," wrote Christopher Lawrence, vice president of Leadership Network at Mozilla, in a company blog last year. "Mozilla Community Gigabit Fund cities are selected based on a range of criteria, including a widely deployed high-speed fiber network; a developing conversation about digital literacy, access, and innovation; a critical mass of community anchor organizations, including arts and educational organizations; an evolving entrepreneurial community; and opportunities to engage K-12 school systems."
This year's 14 winners include: Lafayette Gigabot Coding Initiative, Virtual Reality Ecoliteracy Curriculum, A Community In Motion and New Hope STEM Club Gigabot Project in Lafayette, La.; Giga-Scapes, Gigabit Residencies, Real Time Wetland Restoration Mapping and Analysis, Educational Equity VR and Opening Access to Virtual Worlds of Eugene, Ore.; Cross-Community Kvasir-VR of Lafayette, and Chattanooga, Tenn.; Networking the Classroom of the Future of Chattanooga and Austin, Texas; Path to Python of Austin and Eugene; LOLA-Enabled Puppet Theaters of Chattanooga and Kansas City; LOLA in Lafayette Pilot Program, Lafayette and Chattanooga.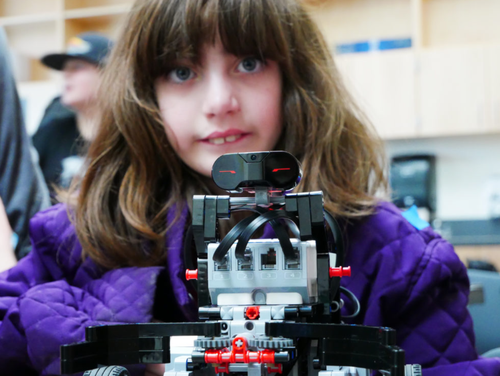 Six years ago, the broadband landscape was far different from today's picture. Google had just chosen Kansas City for its debut Google Fiber network. Those few cities, like Chattanooga, with gigabit broadband -- typically provided by a utility, regional service provider or municipality -- stood out. Mozilla wanted to ensure students and teachers could quickly and easily access the Internet to support educational activities and pilot tests, according to a Monday article in
VentureBeat
.
"There was a real sense that local solutions and local communities in the US had a lot to offer in terms of tapping into the real original promise of the internet -- to make information accessible and open to all," Mark Surman, Mozilla Foundation executive director, told VentureBeat.
Today, of course, more cities and towns have gigabit access courtesy of Tier 1, Tier 2 and Tier 3 service providers, as well as utilities, municipalities and co-ops. Mozilla will not create another Gigabit Community Fund, Surman said, but the developer does plan to increase Internet connectivity, especially among traditionally unserved and underserved regions.
The road ahead
Last year, for example, Mozilla and Gigabit Community Fund partner the National Science Foundation formed WINS -- the Wireless Innovation for Networked Society Challenges. The challenges, which culminate this fall, are to support "creative, open-source ideas for making the Internet more accessible, decentralized and resilient," Mozilla said. "The challenges seek prototypes and designs that either a) provide connectivity during disasters or b) connect the unconnected."
Those interested in entering either or both of the challenges, which offer two $1-million prizes, can request more information here.
On the political front, Mozilla advocates for rules that make it easier for cities to develop their own municipal networks -- a process sometimes fraught with legal issues, including outright bans on this capability in some urban regions and states.
"Where there are people who do want gigabit, that do want high speed, and can't get it, thatís the thing we all have to step up and tackle," Surman said in the article.
Related posts:
— Alison Diana, Editor, Broadband World News. Follow us on Twitter @BroadbandWN or @alisoncdiana.