UK wholesaler Openreach on Tuesday began offering CSPs its "virtual dark fiber," a high-bandwidth managed service melding together the guarantees and responsiveness of typical managed offerings with the benefits -- flexibility, scalability -- of dark fiber access.
Announced in October 2017, Optical Spectrum Access Filter Connect (OSA FC) empowers wholesale customers to scale up to support 100Gbit/s with a maximum bandwidth of more than 3Tbit/s, according to Openreach. With OSA FC, service providers can control and increase bandwidth use at no additional cost without hurting maintenance or service levels, said Darren Wallington, general manager for high bandwidth and passive products at Openreach, in a statement.
Service providers operate their own network devices on top of the managed connection that Openreach monitors around the clock, according to the release. Openreach provides OSA FC customers with a five-hour repair time, the operator said.
"By innovating a virtual dark fiber service, we can give customers that extra flexibility whilst still being able to monitor our network and respond to faults and issues proactively. With a regulated dark fiber access product, we would've literally been left in the dark with no monitoring capabilities and significantly longer service interruptions due to the reactive nature of fault reporting, but this means we can commit to a national five-hour response time," Wallington told BBWN sister site Telecoms.com in an interview.
Openreach, which is a separate division of BT, listened closely to customers and other UK stakeholders to get pricing right, he said. Large and small providers alike sought a service with more competitive high bandwidth pricing with low incremental scaling costs, Wallington said. It also was important for them to get flexible and configurable services that delivered more control, the ability to support quickly evolving technologies like synchronization and more efficiency in power and space use, he noted.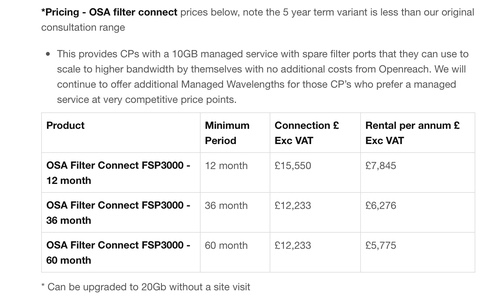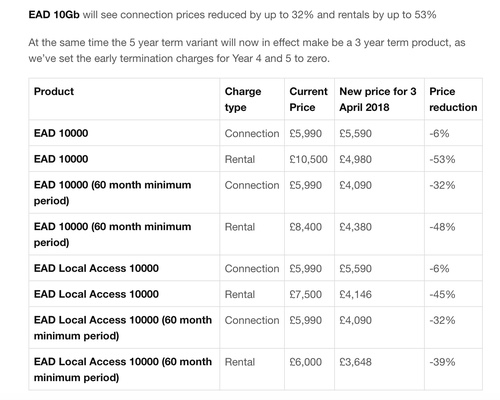 "We've listened closely to our customers," said Wallington. "They wanted something that would address the perceived failings of a 'one size fits all' regulated product and they've helped us to shape the product we're launching." Time -- and service providers' orders -- will tell. What we do know, however, is that demand for fiber continues to grow, alongside the ever increasing need for managed services. The combination should be irresistible.
Related posts:
— Alison Diana, Editor, Broadband World News. Follow us on Twitter @BroadbandWN or @alisoncdiana.