Operators are banking on Gfast's ability to deliver high-speed broadband to multi-dwelling units via fiber-to-the-distribution point (FTTdp) for their current and planned high-speed broadband deployments, a new report finds.
Matching similar studies that demonstrate Gfast's growing popularity, 80% of respondents plan to deploy Gfast by the end of this year, while 27% already are rolling out the architecture, according to a survey of 33 operators around the world conducted by Broadbandtrends.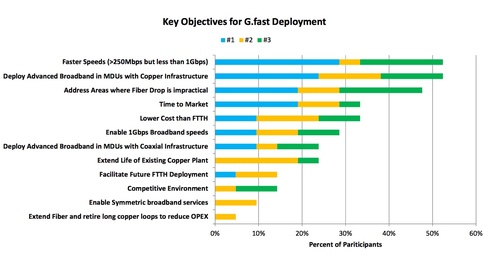 The top objective for rolling out Gfast is to provide MDU residents with speeds of more than 250 Mbit/s, the study found. All polled will use fiber-to-the-building with the digital processing unit (DPU) in the basement, according to the researcher.
Hitting high data rates is critical for telcos as they compete against cable operators, said David Bessonen, North American sales manager and Gfast product line manager at Telebyte, in an interview with BBWN. Telcos are pushing Gfast vendors to leverage the technology's next-generation capabilities like Dynamic Timeslot Assignment and 212MHz to maximize speed and distance, as well as expand the number of ports they can use, he said.
---
You're invited to attend Light Reading's Big Communications Event -- the ONE event that delivers fresh perspective on the rapid transformation of the telecom industry and the road ahead. We'll see you May 14-16 in Austin -- communications service providers get in free!
---
"For the telco companies and operators, DTA is very important as it helps them market very high speeds against the cable companies," said Bessonen. "The really important thing is the data rates. Behind that, you have quality of service. What's driving [adoption] initially is to market these very high rates." Victoria Twomey, director of sales and marketing at Telebyte, added that telcos are also seeking to "to deliver these rates. Nobody wants to fall on their face."
Operators are finding Gfast does deliver. While it requires testing of existing coax or copper cabling to determine noise and interference levels, it's still a faster, more cost-effective implementation than fiber to each condo, apartment or co-op -- if that was even feasible. In some cases, MDU building owners won't allow fiber deployments. In others, the buildings are historic, creating an implementation nightmare. And in some cases, the return on fiber investment is impossible to recoup. (See Gfast Starts 2018 With a Bang.)
"With each consecutive survey, the use cases become more solidified with MDU deployments continuing to drive the bulk of Gfast deployments; but it is the ability to offer faster speeds that remains the top objective for operator interest in G.fast," said Teresa Mastrangelo, principal analyst with Broadbandtrends, in a statement.
Ongoing development of Gfast -- especially support for 1Gbit/s aggregate speeds, extended bandwidth at 212MHz and Dynamic Timeslot Assignment -- were the top emerging or new capabilities, operators said.
"Everybody wants to get to 212. You can double your data rate from 1 gig per second aggregate to 2 gigs per second aggregate," agreed Bessonen. "The challenge is to fully utilize the full 212 megabit bandwidth. The operators want to push the port count to higher density, so they'd like to see 48 ports or higher."
Related posts:
— Alison Diana, Editor, Broadband World News. Follow us on Twitter @BroadbandWN or @alisoncdiana.