Middle-class kids soon won't recall a day when they ran out of milk, when a parent scrambled to figure out that night's menu or a favorite sweater shrank from too much time in the dryer. The advent of smart appliances will ensure a more comfortable existence, with less waste and more leisure time.
By 2022, smart appliances will generate revenue of $7.5 billion, increasing at a compound annual growth rate of 14.7% from $4.3 billion in 2018, according to Statista. Whereas today about 14.2% of homes own a smart appliance, by 2022 household penetration is expected to double to 28.6%, Statista reported.
As these connected refrigerators, washing machines, dishwashers and other Internet of Things (IoT) appliances join household networks, some service providers are equipping some of their tens of thousands of residential-focused technicians on this new opportunity. Through partnerships and promotions, they want to leverage their relationships with homeowners to become the obvious go-to for anything and everything connected to residential WiFi networks.
Deutsche Telekom has been a long-time advocate of IoT and smart home services. To learn more about smart appliances and DT's initiatives in this fast-growing market, Broadband World News Editor Alison Diana chatted recently with Thomas Rockmann, vice president, Connected Home at Deutsche Telekom AG. Here's an edited version of that conversation:
BBWN: Could you briefly describe what you see as the market for smart appliances today?
Thomas Rockmann: The market for smart appliances has never been greater -- Analysts predict that the smart appliances market is projected to grow by 2022 from $17.32 billion in 2017 at a CAGR of 16.29%. This is of course a generalization, which masks the complexity of the smart home ecosystem. Smart appliances are the latest addition to the smart home environment and, allied with existing smart home technologies, serve to widen the market even further. Research has shown that consumers respond well to a single initial smart home entry point, and smart appliances offer very specific but powerful use cases that deliver just that.
What role do service providers like Deutsche Telekom play in the smart appliance market today? And how can service providers expand this role?
TR: Service providers are the backbone of a customer's home including the smart home ecosystem, providing not only a core service, but a recognizable point of contact for consumers and enterprise alike. By striking EU-wide partnerships and supporting open ecosystems, service providers (such as Deutsche Telekom) can play a central role as well as a supportive one. We believe that partnerships and collaboration are the key to success in this market, and are working with Bosch Siemens and Miele so their washing machines, driers, dishwashers and other appliances are a part of Deutsche Telekom's smart home product portfolio.
How does DT mitigate the danger of being used solely for Wi-Fi/Internet support -- without reaping any financial reward?
TR: The challenges of disintermediation are indeed clear, but they have been front of mind for some time now. The key is to provide additional, compelling services that serve consumer needs in parallel with augmenting brand identity and visibility. In addition, it is vital to actively expand the core portfolio in line with market conditions and also partner expectations. Again, partnerships are essential to smart home success.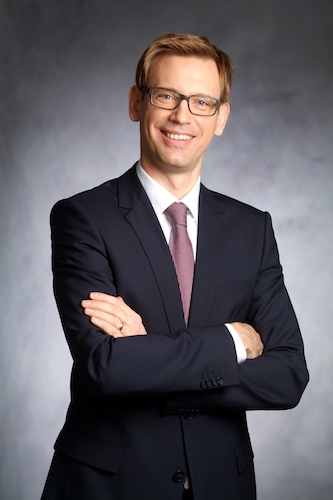 When buying connected appliances, who do consumers turn to for first-line connectivity support?
TR: An interesting question, and one that does depend on the tech maturity of the consumer to some extent. Technically speaking, when introducing a new product into a working system, it is usually the new product that requires configuring, rather than the existing standard-based network, but consumers are not necessarily technical. In view of this, Deutsche Telekom instituted a product level, as opposed to platform level helpline some time ago, in order to facilitate consumer interactions with both DT and partner products. In addition, we recognized early on that some consumers are not DIY, they are DIFM, or DoItForMe, and so we offer installation services as part of Magenta SmartHome.
How is DT targeting the smart appliance market in terms of infrastructure?
TR: The technical key to mid-long term smart appliance deployments is held at the platform level, and it is here that Deutsche Telekom is a market leader. For example, our work with Bosch Siemens household appliances delivers an integrated platform for consumers by enabling Bosch Siemens appliances to seamlessly operate on our white label platform. This is of benefit to everyone, including other device and appliance manufacturers, as sensors from one device can be used to influence other devices -- the very definition of the smart home.
BBWN: How are the best ways to market smart appliances?
TR: Although it is up to individual manufacturers to market their device solutions, we would always advise the choice of a strong, use-case based customer solution as a direct marketing basis. In our research, consumers are attracted by a single initial smart home solution that speaks to their needs and situation, which can then subsequently be built upon with additional devices in the future, in an easy and seamless upgrade path. This single point of entry is essential and must be as clear-cut as possible.
BBWN: How do you handle tech support?
TR: Deutsche Telekom's remote tech support extends into the home (with the appropriate customer permissions of course), but only as far as the smart home hub. Due to the vast range of partner devices (more than 250 currently), it is not practical to offer tech support across the board for partner products.
What are some of the best practices and lessons DT's learned from smart homes and smart cities that you're using for smart appliances?
TR: There is of course a lot of crossover between these markets, and their similarities are considerable in terms of potential, and also their dynamic nature. Without doubt, the requirement to have a clear and easily understood consumer proposition is paramount, as without this even the best product will fall at the first hurdle.
Following this, a straightforward, logical customer journey and upgrade path is also key for longevity. We have found that lowering the barriers to entry as much as possible offers significant benefit, such as by offering a free entry point if possible, perhaps with basic functionality that can be easily upgraded to a 'premium' version.
Having started with one specific use case, like the smart light, most smart home customers will then branch out to adopt other offerings, for example a smart camera that can send alerts to their phone, giving them peace of mind while they are not in. Other examples are smart doorbells that ensure consumers never miss a delivery and smart locks that can be added to a side gate to allow courier access to a safe place – anything is possible.
BBWN: Are there other opportunities associated with smart homes?
TR: Smart appliances represent just one of the areas of smart home development in 2018. There are also a number of smaller and cheaper smart home devices, from WiFi light bulbs to smart plugs, that can also be used to make homes smarter, and consumers' lives easier and more convenient. Using those devices in combination with smart appliances adds far more value than single use cases for those appliances. For example, your washing machine can turn on using a smart plug at a specified time each day and then you can be alerted to when the cycle has finished.
BBWN: Any unexpected benefits of smart appliances?
TR: Another benefit of smart appliances is that they tend to have longer lifecycles than other appliances do, thanks to automated alerts when they are broken or notification of engineer tests as required, so are exchanged only when a replacement is needed.
Related posts:
— Alison Diana, Editor, Broadband World News. Follow us on Twitter @BroadbandWN or @alisoncdiana.
(Home page image source: DT)