In the latest round of funding designed to bring nationwide fiber across Britain, the government is encouraging commercial investment in anchor institutions, businesses and homes.
The initiatives are part of £1 billion in funding unveiled in 2017 by the Chancellor, including the £190 million Local Full Fibre Networks (LFFN) Challenge Fund. The latest round of money -- made up of the remaining £95 million from LFFN -- is expected to accelerate deployment of gigabit fiber infrastructure and Britain's preparation for 5G via updated, future-proof wireless networks.
"We want to hear from any local authority interested in taking part so we can work closely with them on their plans to help them secure funding," said Minister for Digital, Margot James said, in a statement. "The final decision on funding will be made by the Local Full Fibre Networks Investment Panel, who will assess the proposals, placing particular importance on a number of areas..."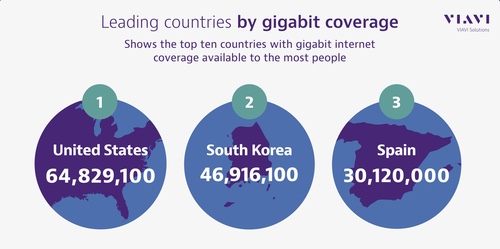 These include:
Rural focus: Projects showing effective delivery of full-fiber networks in remote, rural and hard-to-reach areas
5G: Also called barrier busting, these solutions overcome hurdles to commercial rollouts of fiber and 5G
Public sector productivity: Aimed at the public sector -- such as empowering Britain's nationalized health agencies to use telemedicine or give schools access to cloud-based tools -- these solutions leverage new wired or wireless infrastructure to improve community life
Market development: Here, projects specifically target full-fiber development in a specific area, including incentivizing aggregation.
"The UK is lagging behind the rest of Europe -- and much of the world -- in the race to high-speed Internet," said Manuel Mato, vice president of EMEA at VIAVI Solutions. "Globally, the UK is now #22 out of 49 countries concerning gigabit connectivity, lagging behind countries such as Moldova and Hungary, according to our own research. Ultra-fast Internet will be a key driver for growth and jobs in the UK. A key consideration, however, will be ensuring that these networks to perform reliably and seamlessly."
While 301 million people across 49 countries have access to gigabit Internet, and 12.5% of them live in Europe -- including the UK and Russia (second only to North America at 14.9%) -- Britain is not in the top 10, according to VIAVI's "2018 Gigabit Monitor."
There is no date for submissions; rather, local organizations that wish to bid must submit an "expression of interest" to the program. Government officials will assess projects and will assist in tweaking, as appropriate, according to British authorities.
Related posts:
— Alison Diana, Editor, Broadband World News. Follow us on Twitter or @alisoncdiana.