Piracy and account sharing will cost streaming video providers $12.5 billion in 2024, an increase of 38% over this year's loss of $9.1 billion, Parks Associates predicts.
Today, 27% of US broadband households are involved in some form of video piracy or account sharing, the research firm said. And 13% of consumers surveyed make use of a piracy website or app, it said.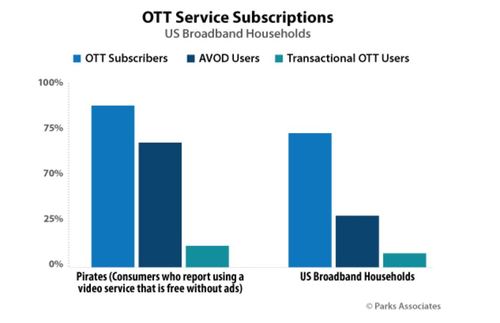 "Piracy is a complex issue that cannot be addressed with a single solution or by targeting a single-use case," said Brett Sappington, senior research director and principal analyst at Parks Associates in a statement. "Most pirates also subscribe to at least one OTT service. They are not simply thieves looking to steal content but are video enthusiasts who engage with many different services. OTT services could better reach these consumers through ad-based content, which also aligns with these users' general belief that 'movies/music should be given away for free.'"
A study by Cartesian, developer of a streaming video credential sharing and prevention solution, also found that 27% of consumers used borrowed or stolen credentials to access SVoD. Of those people, 42% indicated they would be willing to pay for this content if it was not easily accessible.
Of those who use someone else's credentials, 56% said they already "pay enough" for content, while 27% use others' log-on info because it's "easy and convenient," Cartesian's December 2018 report found.
As streaming video services become more specialized and segmented, household budgets won't keep up, suggested Sappington. "Growing subscriber numbers and an increased number of services signal a very healthy OTT market, but more services and aggressively promoted content could incite more piracy over time," he said. "Consumers will hit an upper limit to spending eventually. When that happens, they will resort to pirate tactics to get the content that they want, particularly for sports and other content where trials are not available."
Service providers, satellite operators and streaming services can implement digital fingerprinting to identify content leakage, suggested Don Jones, senior manager at Comcast Cable Communications Management, and Kei Foo, senior manager at Charter Communications, in a 2018 paper they wrote for SCTE-ISBE.
"Session watermarking employed at the service provider level will allow specific identification of the source of leakage, down to the authorized decrypting device that is re-distributing the content illegally. Again, watermarking can be effective but must be judiciously employed where it makes the most economical sense," they argued in the paper. "Another important point is that as content delivery continues to move to IP, all service providers should use secure protocols whenever possible. Even though every security scheme may eventually be overcome, given enough time and resources by the pirates, any additional steps that service providers can add to make the content less convenient to obtain can help slow the growth of video piracy."
Related posts:
— Alison Diana, Editor, Broadband World News. Follow us on Twitter or @alisoncdiana.