Rural healthcare facilities are actually content with the current state of network IT connectivity, but that doesn't mean they are prepared for what lies ahead, as telemedicine and cloud-based services evolve, according to recent research sponsored by Spectrum Enterprise, the enterprise arm of Charter Communications.
The research was conducted by HIMSS Analytics and surveyed 100 decision-makers within IT roles at rural hospitals across the US. It included both a quantitative survey and in-depth interviews. In a webinar explaining the results, Bryan Fiekers, senior director, Research Services, for HIMSS, said 79% of those questioned "are satisfied with their network IT connectivity," as it now stands, but added that "as new technologies come out, we expect those new connectivity challenges to emerge" for rural hospitals.
"We are asking hospitals to do more and more, and their data needs are changing all the time," Fiekers said. "And there is a greater frequency at which these needs are changing as we move forward. This is especially challenging for rural hospitals, who in some ways are more focused on keeping the doors open than on anything else."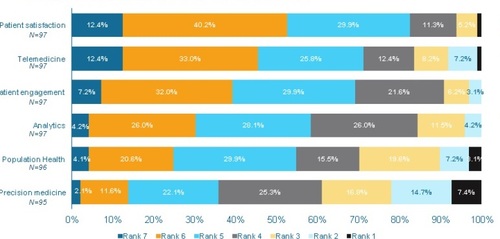 For example, he said, most rural hospitals are well-prepared, in terms of network IT connectivity, to address patient satisfaction and to offer telemedicine, something that is critical to rural areas which often have a shortage of practitioners and specialists. But as the chart below shows, they are not set up to offer things such as precision medicine, so as patient expectations change, that can become a problem. While rural hospitals aren't expected to be on the bleeding edge of medical trends, as that expertise moves out of academic centers and into the general population, it will likely drive the need for greater network IT connectivity, Fiekers said.
He cited an Alabama facility which was embracing telemedicine for some care, but wanted to extend those capabilities to new areas such as psychiatric services and fetal health, and would need additional network IT connectivity to do that. Other facilities want to get telemedicine out into clinics within the community, which would then need fiber connectivity. "Their needs and wants are going to change in order to provide that better care for their patients," he said.
The current level of satisfaction was the survey's biggest surprise, admits Theresa Dudley, vertical program manager, Healthcare, for Spectrum Enterprise . The expectation was that most hospitals would cite the high cost of building fiber optic networks in rural areas as a reason they haven't yet moved in that direction, but in fact, many are already connected and using cloud-based services. She says in an interview that Spectrum is viewing rural healthcare as a significant market as the segment has embraced the digital transformation and shifted to a telehealth model that requires support of cloud services and security as well.
"We think this is an opportunity to be a catalyst and extend more services out to rural communities," she comments.
Rural hospitals do still face challenges, however, as traditional issues such as budget constraints and getting medical professionals to embrace new technologies remain, Dudley notes.
The survey showed implementation cost as the primary obstacle to getting fiber network connectivity, with 73% of respondents citing costs as their greatest challenge as hospitals come under pressure to reduce operating expenses. About two-thirds also cited budget limitations as a top barrier to "enhancing current processes and adopting new models of care and applying new care delivery methods."
One of the things Enterprise Spectrum is doing in this regard is helping hospitals identify potential sources of revenue, many through federal programs or funding, that can help them pay for fiber connectivity. That includes identifying consortiums and consultants that can help in that process, she says.
"Clinician buy-in" is a thornier issue, Dudley notes, with 55% of those surveyed saying that it's hard to get physicians and practitioners to change their ways. On that front, finding training or other resources can be helpful.
Related posts:
— Carol Wilson, Editor-at-Large, Light Reading