US cable operators could generate $20 billion in business services revenue by year-end 2020, up about 11% from $18 billion in sales of similar offerings this year, Light Reading's Alan Breznick told attendees at The Future of Cable Business Services today.
In 2007, back when the Cable Business Services event debuted, cable operators generated between $2 billion and $3 billion from these services, said Breznick, Light Reading's Cable/Video Practice Leader.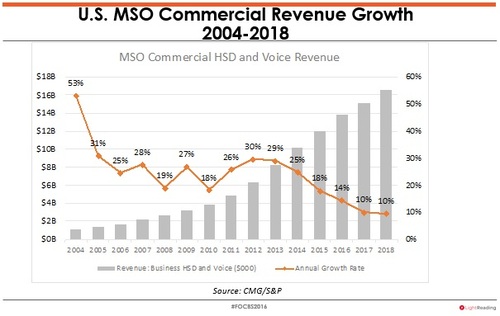 The big win for cable was in chasing small and midsized businesses, but there are already some signs that market may be topping out, wrote Light Reading Senior Editor Jeff Baumgartner
in an article today
.
Let's look at how cable is winning new enterprise deals and how they can keep growing.
Comcast Business has a unit solely focused on the Fortune 1000, supported by network access deals its inked with other MSOs, according to the Light Reading article. These have long sales cycles, however, and often complex processes, so are not for the weak of heart, but Comcast has the size and scale to pull it off.
Cox Business is focusing on healthcare, as are some other cable providers. In April, the provider had "more than 40,000 facilities connected to a host of different healthcare providers across the Cox franchise," said Mike Braham, vice president and general manager of Trapollo, a national provider of remote patient monitoring and telehealth services that Cox acquired in 2015 as part of its large healthcare expansion. (See Cox Business Health GM: No More Evangelist.)
Mediacom is testing out solutions for "big agra," or the large conglomerates involved in much of today's farming. Others MSOs use their infrastructure, technology expertise and services in education, hospitality, financial services and more, Light Reading reported.
Verticals are always attractive and MSOs have been expanding their reach, Breznick said today. As new connectivity-dependent businesses that require pre-packaged solutions present themselves, cablecos can pounce and use their core skillset to keep growing in the business services market.
Related posts:
— Alison Diana, Editor, Broadband World News. Follow us on Twitter or @alisoncdiana.
(Home page art courtesy Atlantic Records)