As it plows ahead with a plan to develop and launch dozens of low-earth orbit satellites, LeoSat Enterprises intends to zig while others are zagging.
Rather than focusing on delivering broadband to the masses in all parts of the globe -- hallmarks of LEO-focused projects such as OneWeb and SpaceX's Starlink -- LeoSat Enterprises wants to get down to business, namely with banks, governments, multinational corporations and other enterprise-level customers.
The interconnected constellation of 78 to 108 LEO satellites that LeoSat has in mind will attempt to serve them with a high-capacity (up to 5.2 Gbit/s), low-latency (down as low as 20 milliseconds) backbone.
"I was drawn to this particular project because it is designed to do something different than everybody else is trying to do," Mark Rigolle, LeoSat's CEO, said. "We've decided to go after the corporate market."
Rigolle, a satellite industry exec late of O3b Networks, SES S.A. (Paris: SESG) and Kacific, believes that LeoSat's approach will help it secure big deals with a select group of enterprise-level customers.
LeoSat, which believes an investment of about $3.5 billion will be needed to fulfill its vision, claims to have more than $1.2 billion in customer commitments so far. Examples of companies with pre-launch deals with LeoSat include DCS Telecom (a telecoms provider for Middle East, Africa and Asia), GlobalSat Inc. (Pan-American communications services provider), Globecomm Systems Inc. (a connectivity provider serving the enterprise, telecoms, energy and government sectors), CopaSat (communications provider for the US government and military) and Supernet, an enterprise network provider based in Pakistan.
LeoSat plans to have its birds flying at an altitude of about 1,400 kilometers (about 870 miles), roughly six times higher than the International Space Station, and about two times higher than what's being planned by OneWeb and Starlink.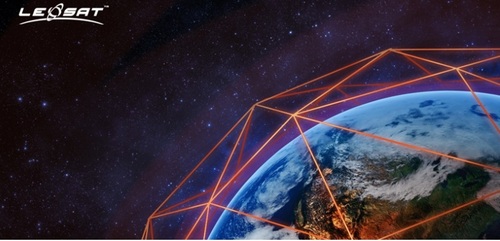 Each of LeoSat's satellites will be equipped with north-south and east-west lasers that allow for an interconnected, fishnet-like arrangement and will, therefore, avoid the "bent pipe" architecture that satellites tend to use to relay data in conjunction with fiber-connected gateway stations on the ground.
LeoSat believes that its approach can rival terrestrial networks. "It's a place that satellite has never played," Rigolle said.
LeoSat's is initially planning to deploy 78 of its satellites to provide global coverage, and then enhance that by adding more to the constellation in increments.
Vision for 2022
If all goes to plan, LeoSat intends to conduct its first launch in 2022.
But to hit that, LeoSat has to put in place several pieces to a puzzle that includes the aforementioned funding, finalizing its design and obtaining regulatory approvals (LeoSat's plan got the green light from the FCC late last year).
LeoSat, he added, will pursue an "A" funding round as it finalizes the design and looks to lock in a manufacturing contract.
Much more about Rigolle and LeoSat's plan will be detailed in a "CxO Spotlight" feature set to appear Monday, February 18 on sister site, Light Reading.
— Jeff Baumgartner, Senior Editor, Light Reading
Home page image source: LeoSat