Multiple parties, from industry organizations and network equipment vendors to individual service providers, have been weighing in with data to illustrate how broadband networks are holding up amid a surge in day traffic as millions of consumers stay at home to work and study during the COVID-19 crisis.
It appears that most networks are generally holding up amid this recent rise in traffic, but some of this data puts numbers behind the trends.
The NCTA – The Internet & Television Association this week introduced a "COVID-19 Internet Dashboard" that provides a high-level, illustrative view of how broadband networks from a cross-section of US cable operators are coping.

The NCTA's current dashboard is based on aggregated data from Charter Communications, Comcast, Cox Communications, GCI and Midco, with data from more operators to be added in the weeks to come. NCTA plans to update the dashboard weekly.

The first batch of data shows that downstream peak usage is up 20.1% since March 1, likely driven by the use of OTT services and gaming downloads, while peak upstream usage has surged 27.7% since that time, an impact aided by increased use of videoconferencing apps.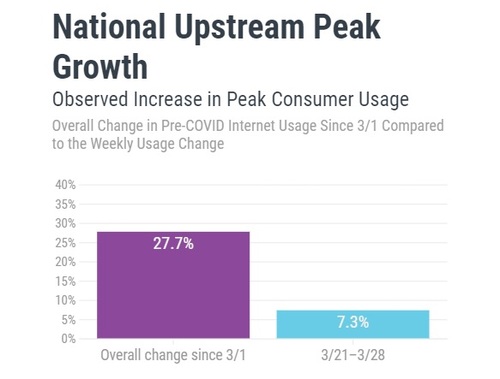 Comcast, meanwhile, provided an individual update, finding that peak network traffic on its network is up 32% overall, and as high as 60% in some cities, such as Seattle and San Francisco, that have been hit hard by the COVID-19 crisis and were forced early on to enact stay-at-home orders.

Comcast also noted that VoIP and videoconferencing traffic on its network is up 212% and VPN traffic is up about 40%. Additionally, there's been a 50% surge in gaming downloads, a 38% rise in streaming and web video consumption, and a 24% increase in mobile data usage over Wi-Fi.

"The network is performing well," Tony Werner, president of technology, product and Xperience at Comcast, said on a press call this week. He said Comcast reviews network usage every five minutes and runs some 700,000 speed tests per day across the network.

Although usage is up across the board, the resulting surge has "all been within the capacity of the network," Werner said. He noted that Comcast typically adds capacity on an ongoing basis and typically plans 12 to 18 months ahead based on trends and forecasts.
Nokia's Deepfield analytics team said it has seen a big rise in videoconferencing apps, including a 700% spike for Zoom since February 1 on some US networks based on a report that tabulates results through March 29. However, Nokia has also seen peak demand begin to stabilize following a recent surge of 40% to 50%.

Additionally, Nokia said its latest findings show that Disney+ was responsible for about 18% of all Internet traffic (coming over peering links) in some countries in Europe, no doubt driven by the recent launch of the subscription VoD service in the region.

Notably, most networks have shown little or no growth during the weekend peak hour (9:00 p.m. locally), but some networks in Europe realized a 20% boost in traffic.

Elsewhere, Nokia's study shows a 20% increase in Netflix cache-based streaming as ISPs move the Netflix library closer to the edge to help reduce the strain on the network.
BroadbandNow, an organization that tracks broadband speeds and overall service levels, said its latest analysis of the top 200 US cities (for March 22-28) found that the most populous markets saw a decrease in median download speeds versus last week, but that 117 cities (59%) have "shown signs of potential network strain," compared to 88 cities (44%) last week.

Meanwhile, rural download speeds in monitored areas were down 3.1% and upload speeds were down 6.9% versus the prior week, the organization said.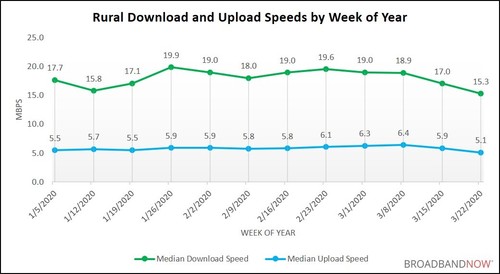 Related posts:

— Jeff Baumgartner, Senior Editor, Light Reading, special to Broadband World News