Broadband usage skyrocketed as millions of consumers stayed home to help slow the spread of COVID-19, but fresh data shows that this surge is starting to taper off.
OpenVault, a provider of tech solutions and industry analytics for broadband operators, announced Tuesday that total downstream data usage in markets with shelter-at-home policies in place actually declined 5.8% during the week of March 30-April 3 from the prior week. Upstream usage in those markets was up just 2.3% during that same period, OpenVault found in a report based on data primarily culled from US-based broadband service providers.
Over a longer stretch, overall data usage (upstream and downstream) in markets with stay-at-home orders is up 33.1% compared to OpenVault's January 2020 usage benchmarks.
OpenVault said average daily downstream consumption during business hours (9 a.m.-5 p.m.) in the last week was 6.35GB, up 42.46% from January's level of 4.46GB, while upstream usage climbed 82.5% from January through April 3 (0.215GB to 0.392GB).
Areas with less restrictive policies are seeing flatter growth rates, with average daily data consumption up 38.2% during weekday hours but peak hour usage rising just 8% since January, the company said.
"It's too early to say that the industry has weathered the storm of additional usage, but signs point to the greatest surge of growth by far as being behind us," Mark Trudeau, CEO and founder of OpenVault, said in a statement.
Similar findings
OpenVault's latest data and assessment align with recent observations of network usage trends. Last week, Nokia said the latest analysis from its Deepfield unit found that peak usage is stabilizing following earlier growth of 40% to 50%.
US cable operators are also seeing peak usage start to level off a bit following recent traffic spikes.
According to a COVID-19 Internet Dashboard introduced last week by the NCTA – The Internet & Television Association using data generated from a handful of US cable ops (Charter Communications, Comcast, Cox Communications, GCI, Midco and Vyve), national downstream peak traffic has climbed 20.1% since March 1, and 4.3% for the week of March 21-March 28 versus the prior week. National upstream peak usage, meanwhile, has jumped 27.7% since March 1, and 7.3% for the week of March 21-March 28 versus the prior week.
NCTA is updating its dashboard on a weekly basis and plans to include data from additional cable operators in the coming weeks.
Update: According to revised stats released Tuesday, the NCTA's dashboard shows that national upstream peak usage for the week of March 28-April 4 rose 4.1% from the prior week, while downstream usage dropped 1.1% during that period. With those new numbers plugged into the dashboard, overall national upstream peak growth for monitored US cable operators is up 33% since March 1, and downstream peak usage is up 18.9%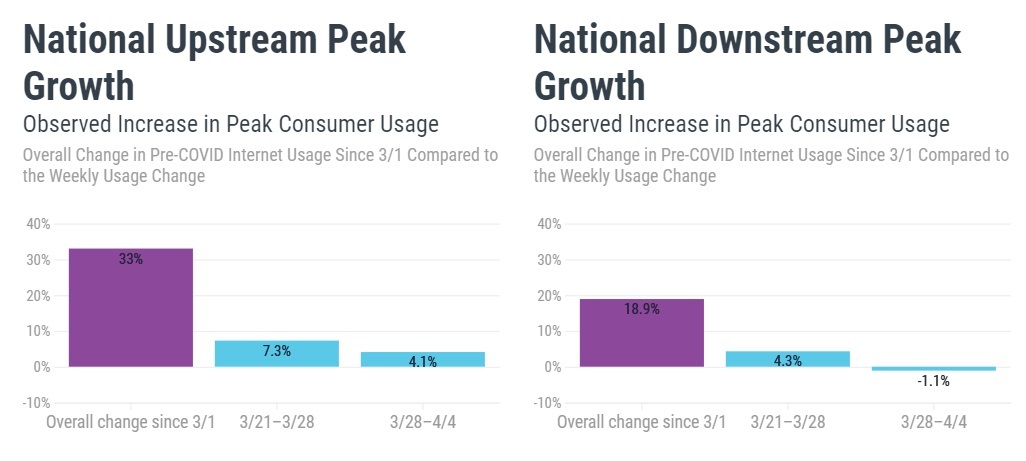 Late last week, the FCC reported that network usage has risen 20% to 30% across US fixed networks and 10% to 20% for cellular networks in recent weeks, with increased demand seen in suburban, exurban and residential areas during daytime hours.
"It appears that our nation's communications networks are holding up very well amid the increase in traffic and change in usage patterns," FCC Chairman Ajit Pai said in a statement.
Global downstream averages decline
Although US networks aren't buckling under the stress brought by COVID-19, new data from Ookla, which runs Speedtest.net, found that global download performance has dipped a bit.
Ookla's updated analysis of COVID-19's impact on worldwide Internet performance (including data pulled from March 30-April 5) found that the average download speeds in March 2020 for mobile were 30.47 Mbit/s and 74.64 Mbit/s for fixed broadband, compared to averages of 31.61 Mbit/s for mobile and 75.47 Mbit/s for fixed broadband in February 2020.
Related posts:

— Jeff Baumgartner, Senior Editor, Light Reading