Fueled by the early stages of a pandemic that caused millions to work from home, total broadband usage jumped 47% in the first quarter of 2020, to roughly 402.5 gigabytes per user, versus the year-ago period, according to OpenVault.
OpenVault, which based its latest OBVI (OpenVault Broadband Insights) report on anonymized data from ISP partners primarily located in the US, noted average consumption at the end of Q1 2020 was 17% more than the 344GB average from Q4 2019.
The company noted that average monthly usage for April was on track to eclipse 460GB, already blowing past a prediction in January – made before COVID-19 reached pandemic status – that average consumption would reach 425GB by the end of 2020.
"Nearly all the growth in broadband usage we would have expected for 2020 has now been achieved in the first quarter, with much of it concentrated in the last two weeks of the quarter," OpenVault explained in the report.
Big boost in power users
OpenVault said the data also showed a big increase in the number of "power users" that consume at least 1 terabyte of data per month, and "extreme power users" that gobble down 2 TB or more.
The percentage of subs in the power user category in Q1 2020 reached 10%, up 138% from the 4.2% in that group in the year-ago period. Meanwhile, extreme power users represented 1.2% of all subs, up 215% from just 0.38% a year earlier.
OpenVault also found that the percentage of customers provisioned for gigabit service increased to 3.75% in Q1 2020, up an astounding 97% from the the year-ago period. Last week, Altice USA reported that gross adds of 1-Gig customers in Q1 2020 rose 56%, and the sell-in rate of that product was about 13% across all gross adds where gigabit service is available.
Several US ISPs, including Comcast, CableOne/Sparklight and AT&T, have temporarily relaxed data usage policies during the pandemic. OpenVault estimates that subscriber usage with relaxed usage-based broadband packages climbed by 49.05% in Q1.
Median usage across all data plans rose 60% to 190.7 GB in Q1 2020 versus the year-ago period, and up 22% from 190.7 GB at the end of 2019, OpenVault said.
The surge in network traffic seen in the first quarter continues to flatten out.
According to the NCTA's COVID-19 Dashboard, peak upstream usage actually dropped 0.2% for the week of April 18-25. Downstream peak rates also dipped another 1.4% during that time period.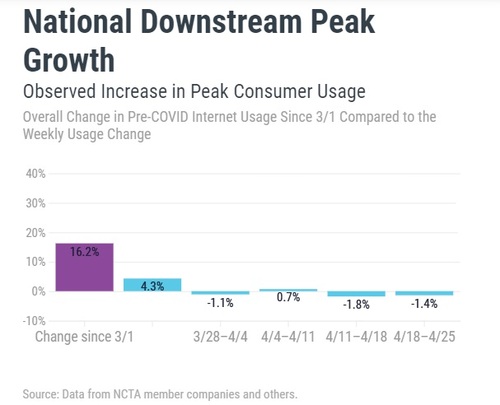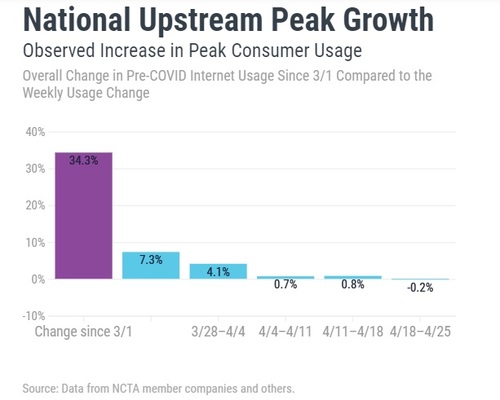 Since March 1, national downstream peak rates are up 16%, and national upstream peak rates are up 34%, NCTA said.
The NCTA dashboard is based on data collected from Altice USA, Cable One, Charter Communications, Cox Communications, Comcast, GCI, Mediacom Communications, Midco and Sjoberg's.
Related posts:

— Jeff Baumgartner, Senior Editor, Light Reading