US cable operators continue to more than hold their own against fiber-to-the-home competition as well as other broadband rivals as the industry's dominance of broadband subscriber gains continued into the first quarter of 2020.
US cable is "punching above its weight" where it faces FTTH competition, Craig Moffett, analyst with MoffettNathanson, said in a broadband industry update released Wednesday. The report also factored in some fresh info from Comlinkdata that offered a look at how extensively some individual cable ops are exposed to fiber-based service providers, along with rivals that deliver service on legacy and more advanced DSL platforms.
The Comlinkdata study cited in Moffett's latest report indicates that Comcast faces competition from ILEC FTTP in 33% of its footprint, compared to Charter (28%) and Cable One (a mere 5%). Charter has a 61.8% share in those FTTH competition markets, with Comcast at about 55.8%.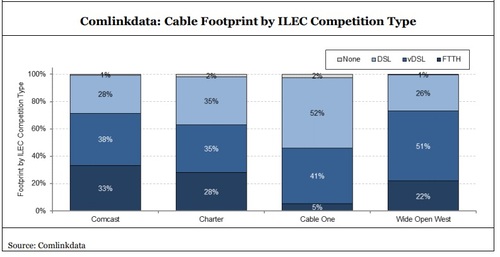 "This does not appear to be a case of the FTTH services still being too new to have reached equilibrium. Cable's share has consistently been higher than one would expect, even in FiOS markets where FiOS has been offered for more than a decade," Moffett noted. "Generally speaking, the pricing differences between TelCo FTTH and Cable are not large enough to be explanatory. Whether Cable's higher-than-expected share is a function of marketing superiority, or perhaps of pairing with a better video service (if so, that is something that will lose its efficacy over time) is unclear. In any case, it has been this way for a long time."
The Comlinkdata findings cited by Moffett are based on a massive panel of 200 million US smartphones that help to identify the underlying broadband providers that devices are connecting to over home Wi-Fi. Those Comlinkdata findings generally indicate that US cable operators are accelerating their broadband market share gains from telcos.
Of note, US cable appears to be gaining more ground on a "middle tier" of telco competition that delivers service via access technologies such as FTTN, IP-DSLAM or augmented DSL vectoring.
"Broadband is increasingly a two-horse race between Cable and TelCo FTTP, where it exists," Moffett wrote. "In every other competitive cohort, the TelCos' technology platform is being rendered irrelevant. Which is a roundabout way of saying… we believe that Cable's accelerating market share gains will prove durable."
According to Comlinkdata, Charter currently has the highest broadband market share in its footprint, with about 71.8% of subs picking the cable op over its telco and cable overbuilder competitors. The data also showed that Comcast enjoys a 68% installed share in its footprint, followed by Cable One (48.6%). Meanwhile, WideOpenWest, a competitive cable overbuilder, had a share of 28.3% against all types of broadband competition, according to Comlinkdata.
Broadband sub growth accelerates in Q1
Overall US broadband growth re-accelerated in Q1 2020 as consumers hunkered down at home and new household formation rose during the early part of the period before the pandemic fully took hold, according to Moffett.
But cable continued to dominate. According to Moffett's analysis, US cable broadband sub growth improved to 5.4% in Q1 2020 year-over-year, marking the fastest growth rate for MSOs since 2017. Meanwhile, US telcos suffered their fastest aggregate rate of broadband decline ever, at 2.2%.
For more detail about Moffett's latest report, including how wired broadband has widened the gap on mobile/wireless data consumption during the pandemic, please see this story at Light Reading: US cable accelerates broadband gains in Q1.
— Jeff Baumgartner, Senior Editor, Light Reading, special to Broadband World News