Starry's 5G-based fixed wireless service is not dominating the US broadband landscape, but it is starting to secure some sizable footholds in pockets of the market, according to a new report about the startup from MoffettNathanson's Craig Moffett.
Starry has largely targeted apartment buildings and other multiple dwelling units rather than single-home residents. So far, that strategy appears to be working under Starry's local and targeted approach.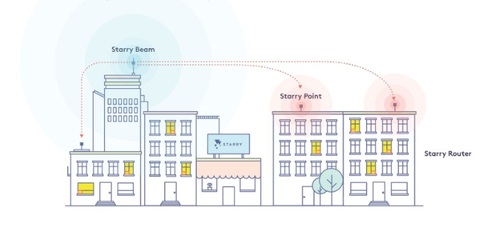 "By any standard, Starry is succeeding. Their subscriber base is growing 10% per month," Moffett explained in a report based on a meeting last week with Starry founder and CEO Chet Kanojia. "And by all indications, their longer-term expectation of taking close to 30% of the addressable market in cities where they launch service is an attainable goal. Still, by our estimate, they are the better part of a year away from reaching 1/10th of 1% national market share."
Starry's deployment in Boston is the oldest and perhaps best example of what it might be able to pull off in other US markets. Starry believes it could capture about 15% of the overall Boston market based on MDUs alone, Moffett said, noting that Starry is on a path to reach about 800,000 homes passed in Beantown.
Kanojia relayed that Starry's service is available in about 70% of buildings in its Boston footprint, capturing 27% to 30% share on average where it does have a presence. And it's doing so as fourth entrant behind Comcast, RCN and Verizon/Fios. In Cambridge, where Starry faces off only against Comcast, Starry's share has surged to between 35% and 37%, Moffett said.
For more about how the pandemic has impacted Starry in the short term, an update on its network expansion plans for the US and Moffett's broader view about the competitive impact of 5G fixed wireless services, please see this story at Light Reading: Starry's base growing by 10% per month, nearing 100K sub mark – analyst .
Related posts:

— Jeff Baumgartner, Senior Editor, Light Reading, special to Broadband World News