Overall peak usage on US residential cable networks are flattening out as stay-at-home orders loosen up, but pressure continues to be applied to the cable upstream.
According to the latest batch of data from the NCTA's COVID-19 Dashboard, national peak upstream usage is up 25.1% since March 1, but it declined 0.9% the week of May 30 and was down 2.8% the week before that.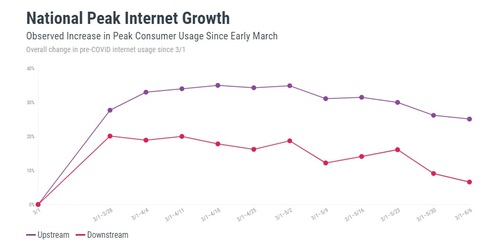 By comparison, peak downstream usage on US cable networks is up just 6.6% since March 1. It was down 2.3% the week of May 30 and down 6.2% the week prior.
The NCTA's COVID-19 Dashboard has been collecting and tracking downstream and upstream usage data from several US cable operators for the last three and a half months. The current version is tabulating data from nine major and midsized US cable operators – Altice USA, Cable One, Charter Communications, Comcast, Cox Communications, GCI, Mediacom Communications, Midco and Sjoberg's Inc. of Thief River Falls, Minnesota.
Several weeks into the process it's clear that cable's upstream has gotten a prolonged workout thanks to the increased use of videoconferencing apps while millions of people worked from home. Among individual cable operators, Comcast reported this week that videoconferencing on its network jumped as much as 285% at the peak of the surge in March and April.
US cable operators generally have slowed down or backburnered some major projects involving virtualization and distributed access architectures so they can prioritize the near-term needs. However, peak usage trends during the pandemic, and the likelihood that some percentage of people will continue to work at home, are expected to cause some cable operators to accelerate plans to beef up the capacity they have dedicated to the upstream.
Today, most cable operators have upstream built out from 5MHz-45MHz, but industry engineers tell Light Reading that discussions about mid-splits that would push the upstream to 85MHz or a high-split to 204MHz continue to heat up.
For more detail on the NCTA's latest batch of data and how cable networks have been able withstand the higher demand, including some new data specific to Comcast, please read the full story at Light Reading: Peak usage on US cable networks falls back to Earth .
Related posts:

— Jeff Baumgartner, Senior Editor, Light Reading