Recent tests show that speeds and latency levels delivered by Starlink, Elon Musk's emerging low-Earth orbit satellite broadband service, far exceed those from satellite-powered rivals. But initial, lofty costs for the new service could be a sticking point even for consumers in rural areas who lack access to decent Internet service.
Average Starlink speeds jumped to 79 Mbit/s down and 13.8 Mbit/s up in October, improving on an average speed of 42 Mbit/s down and 9.7 Mbit/s up, according to a fresh PCMag study based on speed tests conducted by Ookla (Ookla is owned by Ziff Davis, PCMag's parent company).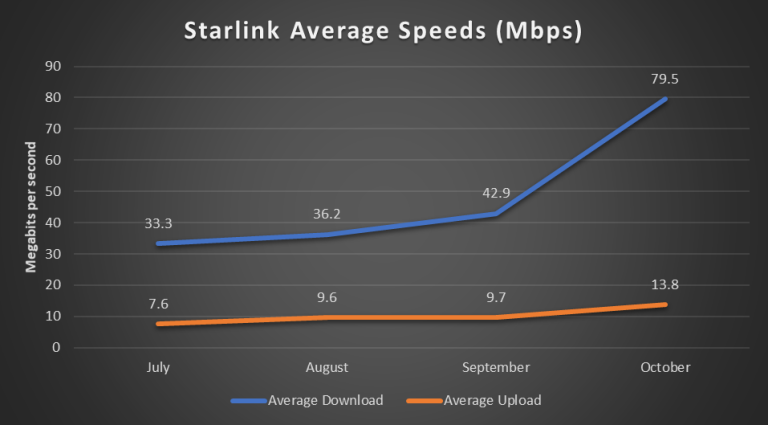 "The company quoted speeds of '50Mb/s to 150Mb/s' in a recent email to beta test users, so the results we're seeing are by and large in line with that," the report noted.
If such speeds stand when Starlink's service launches commercially, they represent a huge leap over measured average downstream speeds for HughesNet (19.84 Mbit/s) and Viasat's Exede system (24.75 Mbit/s). Starlink's upstream averages also surpassed upstream averages measured in September for HughesNet (2.64 Mbit/s) and Viasat Exede (3.25 Mbit/s), according to the study.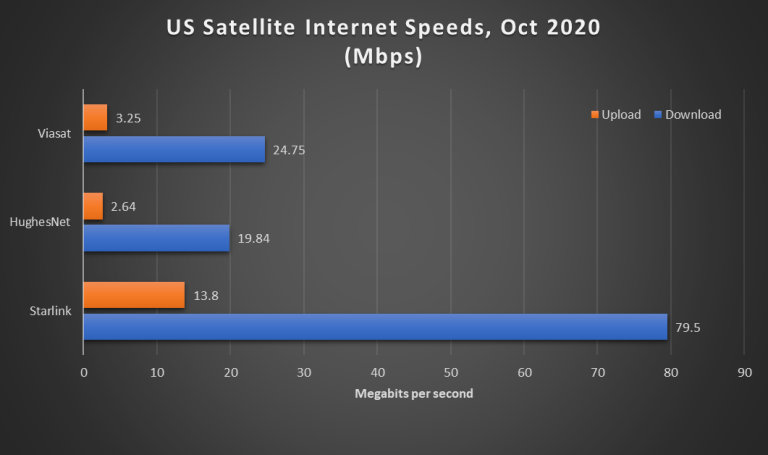 As would be expected, tests also showed that Starlink's LEO satellites, which orbit some 340 miles above the Earth, delivered much lower latencies than the geosynchronous-Earth orbit systems from HughesNet and Viasat that reside some 22,000 miles above. Starlink's latencies "varied wildly," but averaged 42 milliseconds (ms), versus HughesNet (728ms) and Viasat (643ms).
Fast, but pricey
So, Starlink is fast compared to its GEO-based rivals. But indications are that the service won't be cheap.
Starlink has not announced commercial packaging and pricing and whether the service will be affixed with data caps or usage-based policies. The beta phase price is $99 per month, plus $499 for the satellite dish and home router.
But satellite broadband of any sort is costly. By way of comparison, the report points out that HughesNet's 25 Mbit/s service with 20 gigabytes of data fetches $69.99 per month, while Viasat's 12 Mbit/s unlimited plan (users can chew through 40GB before data is prioritized behind other customers during periods of network congestion, resulting in slower speeds) goes for $100 per month along with a 30 Mbit/s plan that costs $200 per month.
More beta invites coming
Starlink, which has deployed almost 900 satellites so far, appears to be ramping up its beta tests ahead of its full launch. SpaceX founder Elon Musk tweeted Monday that "several thousand" additional beta invites are going out this week:
According to Business Insider, Musk also noted that Starlink's beta, which is focused today on the northern US and southern Canada, could be extended into Florida by January 2021. And if Starlink gets the necessary approvals, it could get to parts of Europe by February 2021 and India by mid-2021.
Meanwhile, Starlink beta testers have been sharing details on the installation and service experience, including limitations on connectivity and speeds when the equipment is moved to unregistered locations or set up in an area that does not provide a clear line of sight to the Starlink satellites.
Related posts:

— Jeff Baumgartner, Senior Editor, Light Reading, special to Broadband World News