The percentage of "power" broadband users – defined as those who consume at least 1 terabyte of data per month – and the number of customers who take 1-Gig speed tiers jumped in Q3 2020, according to OpenVault's latest "Broadband Insights" report.
The report, based on anonymized usage data from various ISPs, found a 110% increase in power users, to 8.8% of all subs. It also found a 172% jump in power users who gobble down 2TB or more, to 1% of all subs.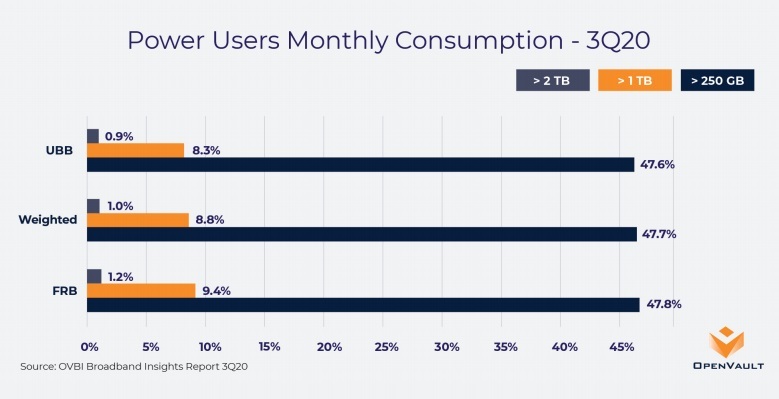 OpenVault characterized this surge as a revenue opportunity for ISPs. While increased data usage, particularly during the pandemic, has caused some consumers to upgrade to higher-level broadband tiers, it can also have a financial impact on ISPs that utilize controversial data caps and usage-based broadband data policies.
Of note, OpenVault found that 80% of customers on usage-based data plans subscribe to faster speed tiers with higher average revenue per user (ARPU), while 49% more customers on flat-rate billing plans take lower-cost speed plans. The study also found that ISPs with usage-based plans had about 25% more subs on gigabit speed tiers than operators with flat-rate billing plans during the quarter.
There's no clear uniformity on usage-based policies among ISPs.
Comcast recently restored its residential broadband data plan and raised the monthly limit to 1.2TB – about 200 gigabytes higher than the 1TB limit that was in place before the COVID-19 outbreak. Sales of Cable One's unlimited data option, which runs an extra $40 per month, have been down of late, as the operator temporarily gave unlimited usage away for a few months during the early stages of the pandemic. However, unlimited data remains the "major contributor" to Cable One's ARPU growth, Cable One president and CEO Julie Laulis said on the company's recent Q3 earnings call.
Charter Communications currently does not implement usage-based data policies. But the MSO has asked the FCC to lift conditions tied to its acquisitions of Time Warner Cable and Bright House Networks that prevent Charter from implementing such policies.
More consumers going for a Gig
OpenVault's study also saw a 124% rise in the number of broadband customers provisioned for gigabit speeds – to 5.6%.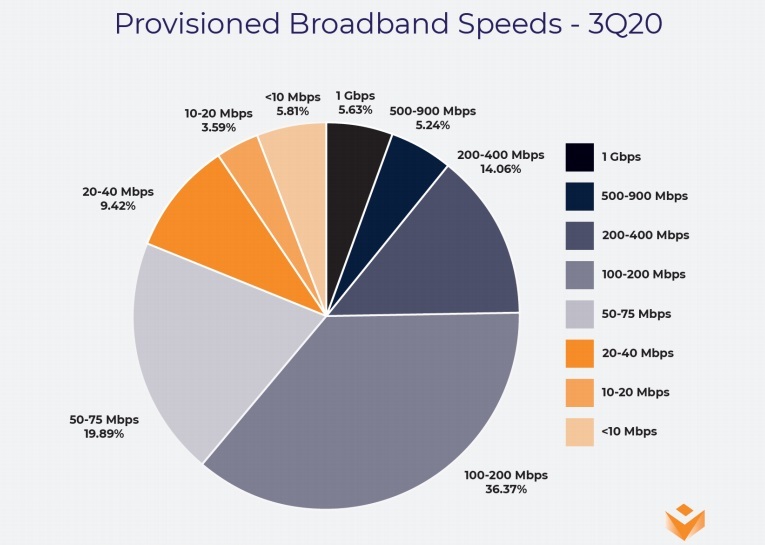 Other ISPs are seeing 1-Gig adoption tick up. Altice USA, for example, reported last month that 60% of its new fiber-to-the-premises (FTTP) gross broadband subs took the operator's gigabit broadband product, while 29% of gross-add subs getting service via FTTP or the operator's hybrid fiber/coax (HFC) network opted for 1-Gig.
Average data usage rises nearly 40%
Among other findings in the Q3 report, OpenVault found that the top 10% of broadband subs consumed more than 34% of total downstream traffic and 54% of all upstream traffic. Additionally, the top 1% accounted for almost one fifth (a little more than 19%) of total upstream usage.
Additionally, the monthly weighted average data consumed by measured subs in Q3 was 383.8GB, up nearly 40% from the year-ago period. The average household used 359GB of downstream data and 25GB of upstream data in the period.
The "sweet spot" for bandwidth usage versus speed tier is in the range of 100 Mbit/s to 200 Mbit/s. In that range, 36% of all subs consume about 36% of all bandwidth, OpenVault said.
— Jeff Baumgartner, Senior Editor, Light Reading, special to Broadband World News