Total spending on broadband access equipment reached $3.1 billion in Q3 2020, up 1% versus the year-ago period, thanks in part to a rebound in cable network spending along with sustained spending on PON equipment, according to Dell'Oro Group.
Total cable access concentrator revenue jumped 6% to $280 million in Q3. That was driven by solid growth in converged cable access platform (CCAP) license purchases across multiple regions – North America, Caribbean and Latin America (CALA) and Europe, Middle East, and Africa (EMEA) – Dell'Oro said.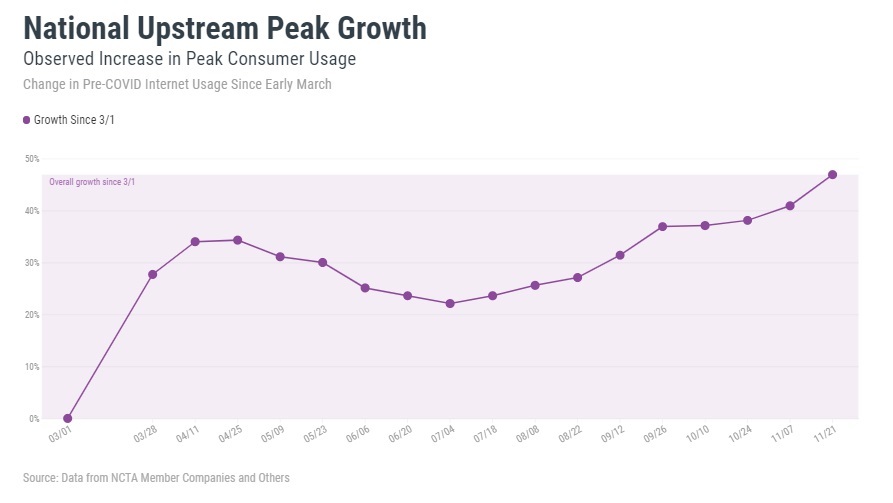 By comparison, total cable access concentrator revenues (a category that includes DOCSIS infrastructure elements such as CCAP cores and chassis, virtual CCAP licensing and distributed access architecture (DAA) nodes and modules) dipped 8% to $219 million in Q3, due largely to a slowdown in CCAP license purchases.
As a side note, cable infrastructure and consumer premises equipment (CPE) spending leapt past the $1 billion mark for the first time in Q3 since 2018, Dell'Oro said.
2020 has been a roller coaster ride for several cable access network vendors. During the early stages of the pandemic, cable operators put some next-gen network projects on the backburner so they could instead concentrate on beefing up capacity on their legacy platforms to stay ahead of a rise in upstream and downstream data demand as millions worked and schooled from home.
According to the NCTA's COVID-19 Dashboard, which tabulates network traffic from several major US cable operators, downstream peak growth has risen 27.4% since March 2020 while upstream peak growth has surged 46.9% during that same timeframe.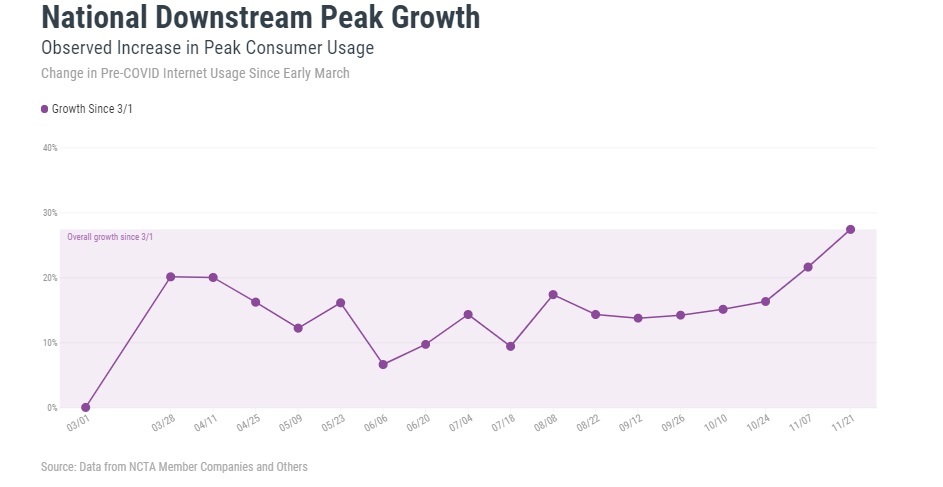 Dell'Oro noted that the small rise in overall broadband access equipment revenues in Q3 was also due to "sustained spending" on PON gear.
"The COVID-19 pandemic continues to accelerate operators' fiber and cable capacity expansions," Jeff Heynen, VP, broadband access and home networking, said in a statement.
The net result, he added, has been a faster transition to premium 1Gbit/s residential services.
Other recent numbers reflect that finding. Altice USA, for example, said that 29% of all gross broadband subscriber adds in Q3 (for customers on FTTP and HFC networks) took the company's 1-Gig service in areas where it's available. That 1-Gig sell-in rate jumped to 60% in Altice USA's growing FTTP footprint.
Meanwhile, OpenVault's Q3 2020 study saw a 124% rise in the number of broadband customers provisioned for gigabit speeds – to 5.6% of total subs.
— Jeff Baumgartner, Senior Editor, Light Reading, special to Broadband World News