Round one of the Rural Digital Opportunity Fund (RDOF) awarded some $9.2 billion, or 57.5% of what was available. And it's clear that Charter Communications and SpaceX are among those that made it into the RDOF winner's circle.
How about the incumbent telcos serving rural US markets that have been historically aided by CAF II subsidies? Not so much.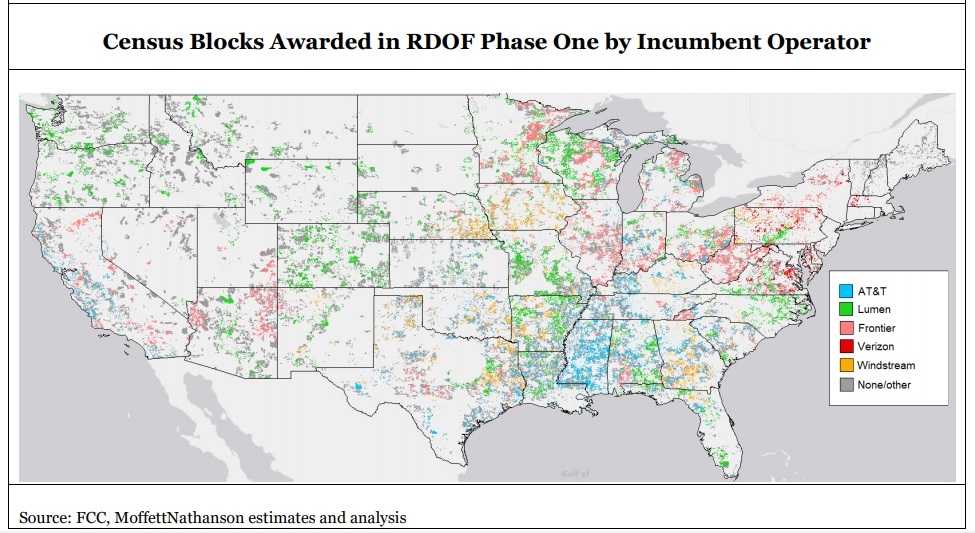 "The results of the RDOF auction were quite bad for incumbents with exposure to rural areas, like Lumen, Frontier and Windstream," Craig Moffett, analyst with MoffettNathanson, proclaimed in a report that sized up the first-round results.
Lumen (the CenturyLink rebrand) successfully bid on just 5% of 893,000 RDOF-eligible locations in its footprint, and will see its annual funding decline from $500 million under CAF II to just $16 million under RDOF starting in 2022, Moffett estimated. Frontier (12%) and Windstream (33%) fared a bit better from an eligible locations standpoint.
"Stated in the inverse, there are over 800K locations in its footprint where Lumen will go from having no competition to having to compete with a superior network; Frontier and Windstream will have that happen in about 700K and 150K locations, respectively," Moffett wrote.
Charter won 1.1 million locations, more than any other bidder, and support for $1.2 billion over 10 years. Moffett estimates that the locations won by Charter equal 2% of its current footprint and an eye-popping 4.3% of its unpenetrated footprint.
According to Moffett, 15% of Charter's RDOF locations are in AT&T territory, compared to 18% of Lumen areas and 20% of Frontier areas. Most of the cable operator's wins are in adjacent areas that effectively represent edge-outs for the cable op.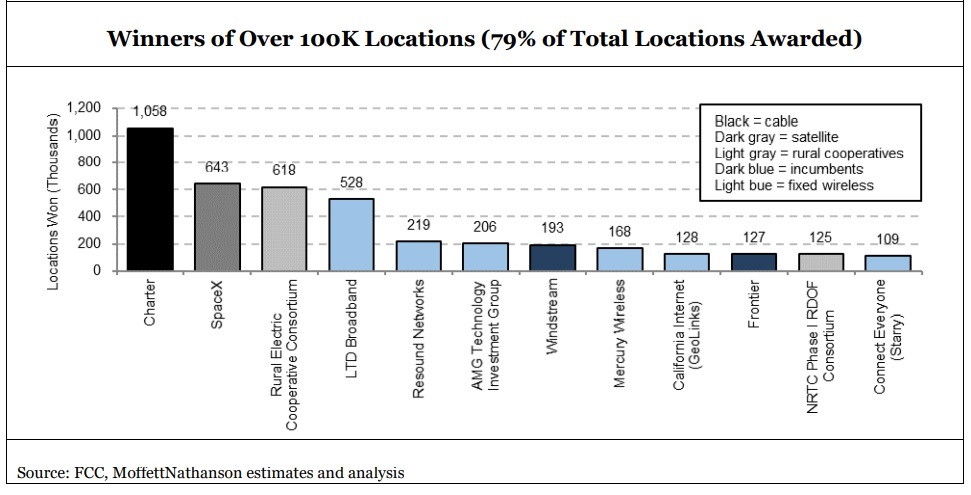 Cable operators such as Altice USA and Cox Communications also participated, but their RDOF take was relatively immaterial. Altice USA won just 0.1% of locations up for bid in some 5,000 locations scattered across its rural-focused Suddenlink footprint, according to ISI Evercore's analysis. Cox, meanwhile, won some 8,000 locations primarily in California, Arizona and Arkansas.
Regardless, entering the RDOF fray represents all upside for the cable operators, subsidizing edge-outs, fueling service growth and erecting additional "defensive buffers," Moffett reckons.
"There was a time when government subsidy programs were an arcane topic, a nice-to-have for RLECs [rural local exchange carriers], perhaps, but largely irrelevant for others," Moffett noted. "No more. Cable operators are now counting on broadband subsidies to sustain broadband unit growth."
SpaceX's low-Earth orbit (LEO) satellite service, Starlink, also cleaned up with $89 million in annual subsidies over a decade to serve 643,000 location and claiming most of the RDOF locations set to deliver 100 Mbit/s down and 20 Mbit/s up.
RDOF could spell some trouble for the satellite TV services that have been somewhat insulated from OTT competition in rural areas. Dish Network, for one, has benefitted from its rural pay-TV focus in recent quarters.
"That rural core will now be getting smaller," Moffett wrote.
Related posts:

— Jeff Baumgartner, Senior Editor, Light Reading, special to Broadband World News