Consumers still have a need for speed during the pandemic, but attributes such as latency and jitter are also important, particularly among online gamers.
Verizon Fios is the top gaming ISP among major US service providers while Iowa's Cedar Falls Utilities (CFU) was the best among all qualified ISPs, according to a new PCMag study that emphasized jitter and latency performance along with overall raw speeds.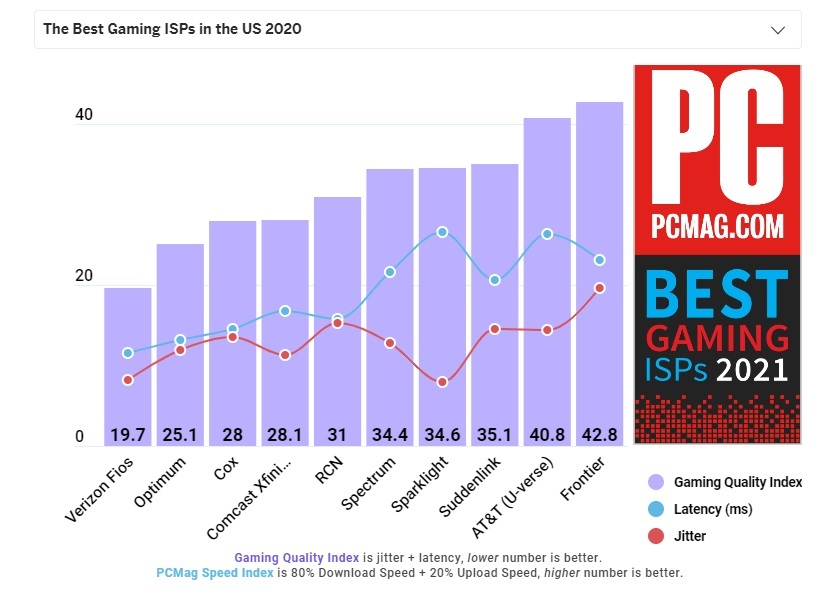 Altice USA's Gaming Quality Index results were a mixed bag. Its Optimum service area, which includes parts of New York, New Jersey and Connecticut and a growing number of areas supported by fiber-to-the-premises (FTTP) network upgrades, fared well in the study, while its more rural Suddenlink service area was at the bottom of the heap with AT&T (U-verse) and Frontier Communications.
CFU topped PCMag's broader ISP study with a Gaming Quality Index of 9.1, the best in the nation, followed by Empire Access and Hotwire. Summit Broadband, Comporium and GVTC Communication were at the bottom of the US ISPs that made the cut.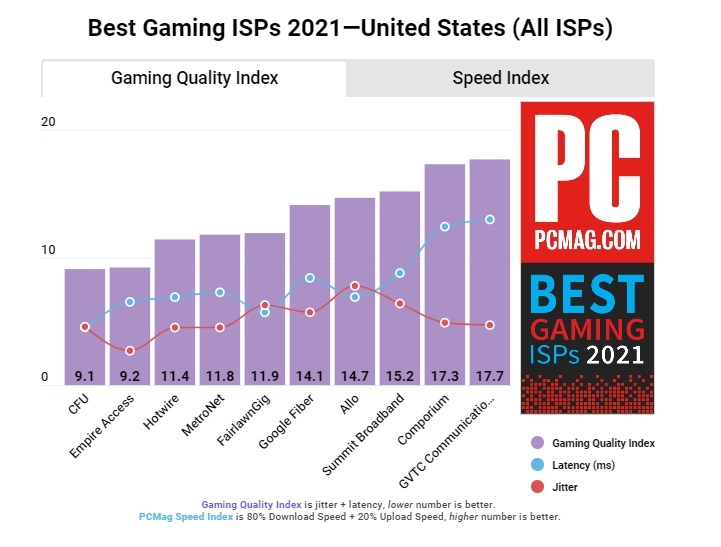 PCMag's Gaming Quality Index factored in latency (measured in milliseconds) and jitter (a check of the consistency of the latency) of the connection being tested – the lower the number, the better the performance in those categories. "Adding the two provides a number for comparison," PCMag explained in the study, based on tests conducted between December 1, 2019 and November 30, 2020.
PCMag said it used 280,777 US-based tests to quantify the results. ISPs not listed either did not have connections of a high-enough quality on average, or users or ISPs did not use the PCMag test tool often enough. Notably, wireless ISPs seldom made the final results because "they're not great for throughput or low-latency gaming," the study noted.
Those study results enter the picture as low-latency starts to become a greater focus of cable operators and other ISPs as they pursue features and capabilities that go beyond speeds and pricing.
For more on the PCMag study, including results on the nation's fastest ISPs, please see this story at Light Reading: Verizon, Altice USA, Cox got the most game among top ISPs – study .
Related posts:

— Jeff Baumgartner, Senior Editor, Light Reading, special to Broadband World News