Self-installation kits (SIKs) have helped cable operators and their customers weather the pandemic. Now Hitron Technologies is expanding on those efforts with the launch of a low-cost coax outlet testing device designed to streamline the overall process and reduce operator capital expenditures.
Viewed as a potential component for cable service SIKs, the new DSS-01 Coax Cable Tester enables subscribers to easily verify a coax outlet before placing a call to tech support, according to Hitron.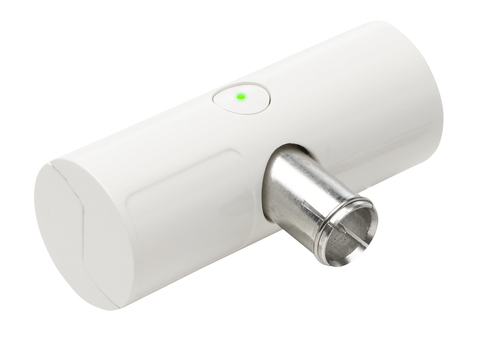 As an alternative to the pricey signal meters that field techs tote around, the DSS-01 is designed to be included with every subscriber self-installation package, the company said.
Hitron said customers would test an outlet by plugging the device into a coaxial outlet and pressing the button. Within ten seconds, the sensor's LED light will indicate whether or not the outlet is receiving a valid RF signal (green is good, red is bad).
That simple test will help to reduce the number of self-install support calls and unnecessary truck rolls, Hitron said, noting that customers would likely call support right away to schedule a professional install if they connected a cable modem that failed to come online.
Hitron said the device, currently sold only to service providers, can scan the cable downstream signal from 88MHz to 1GHz in 20 segments and seeks out consistent power across four channels to avoid false positives from stripped wiring acting as an antenna or from nearby UHF/VHF broadcast TV stations. Hitron estimates that one AAA battery can power more than 100 scans.
Hitron has not announced operator deployments, but an official said the vendor is already working with one "large" tier 1 cable operator and multiple tier 2 cable operators in the US.
Pricing on the tester is sub-$10 per unit, based on quantity, the company added.
Hitron's low-cost DOCSIS signal tester emerges as cable operators around the world have rapidly pivoted their operations to self-installation models and virtualized, digital customer service tools.
"Through our discussions with cable operators, we know there is a need for a tool like the DSS-01 and we're committed to helping operators simplify and improve the self-installation experience," Samih Abdelgadir, VP of product development at Hitron Technologies Americas, said in a statement. "At the same time, we are recognizing multiple use cases beyond self-installations and are excited to pursue additional opportunities too."
The DSS-01 could be used, for example, as a tool for home builders for wiring inspections and even cable techs themselves, the company said.
Related posts:

— Jeff Baumgartner, Senior Editor, Light Reading, special to Broadband World News