A group of major US broadband service providers is under pressure from Democrats in the House Energy & Commerce committee for implementing data caps and usage-based policies and/or for raising service prices during the pandemic.
Those catching heat include Altice USA, AT&T, CenturyLink/Lumen, Charter Communications, Cox Communications, Frontier, T-Mobile and Verizon, according to Multichannel News.
According to a copy of the letter dated January 11 obtained by Broadband World News, Democrats in the committee want answers on their pricing and policy moves during a public health and economic crisis that has only amplified the critical need for reliable and affordable Internet service as millions were forced to work and school from home.
Committee members note that ISPs in the group and across the country expanded affordable service offerings, provided free months of service, opened Wi-Fi hotspots, temporarily halted the use of data caps and participated in the FCC's voluntary Keep Americans Connected pledge.
"With the expiration of the FCC's pledge, and the passage of time, some companies have already started to abandon the policies they adopted in the early days of the pandemic even though COVID-19 continues to surge throughout the nation and millions of Americans remain unemployed or under-employed," a set of Democrats in the Committee (Chairman Frank Pallone Jr., D-NJ; Mike Doyle, D-Pa.; and Jerry McNerney, D-Calif.) wrote.
They pointed generally to recent reports of price increases while noting that at least one major ISP re-imposed and expanded the reach of usage-based data policies.
The data cap example appears to be targeted at Comcast. The Philadelphia-based cable operator reinstated its data usage policy in July following a months-long hiatus while also raising the policy's monthly data limit from 1 terabyte per month to 1.2 terabytes per month. Then, starting January 1, 2021, Comcast extended that policy for the first time to its northeast division.
"This is an egregious action at a time when households and small businesses across the country need high-speed, reliable broadband more than ever but are struggling to make ends meet," the lawmakers added.
To help the Committee stay apprised about what they are doing to keep Americans connected during the ongoing health and economic crisis, the letter requests that service providers to submit answers to several questions by January 25, 2021.
In addition to asking if the ISPs participated in the FCC's Keep Americans Connected program, they are asking about whether they implemented price increases for fixed or mobile service since the start of the pandemic. They are also wondering if the service plans imposed a maximum data consumption threshold prior to March 2020 and if ISPs have modified or imposed any new maximum data limits on service plans or expect to do so within the next six months.
The Democrats in the committee are also asking if the service providers stopped disconnecting Internet service due to a customer's inability to pay during the pandemic and how many have been disconnected since March 2020 due to customers' inability to pay.
Data usage still climbing
Peak data usage on broadband networks continues to rise during a pandemic that is nearing the one-year point.
According to the NCTA's COVID-19 Dashboard, peak downstream usage among several US cable operators has climbed 34.7% since March 2020, while peak upstream usage has jumped 41.5% over that period.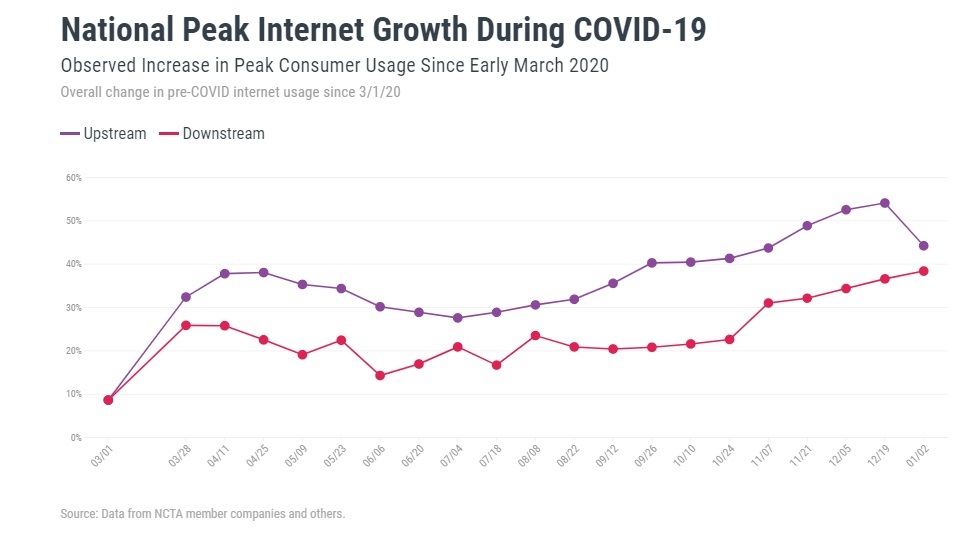 According to data released this week by OpenVault, the percentage of subscribers using at least 2 terabytes per month reached 2.16% in December 2020, a 184% increase over 2019 that established a new monthly high for the 2TB "power users" group. The previous high was 1.32% in April 2020, shortly after pandemic-fueled lockdowns were imposed.
OpenVault said average data usage per subscriber in North America for December was 483 gigabytes.
Related posts:

— Jeff Baumgartner, Senior Editor, Light Reading, special to Broadband World News