US broadband providers will turn in another solid quarter in Q4 2020, but the gains won't be high enough to match up with the blowout subscriber numbers seen in the third quarter of the year, the analysts at ISI Evercore predicted in a preview ahead of quarterly results.
US service providers are expected to add another 1.1 million broadband subscribers in Q4 2020. While those expected broadband adds will handily beat the 780,000 adds from Q4 2019, they'll mark a slowdown from the 1.5 million broadband sub adds posted in Q3 2020 as the pandemic-fueled surge tapers off, the analysts noted.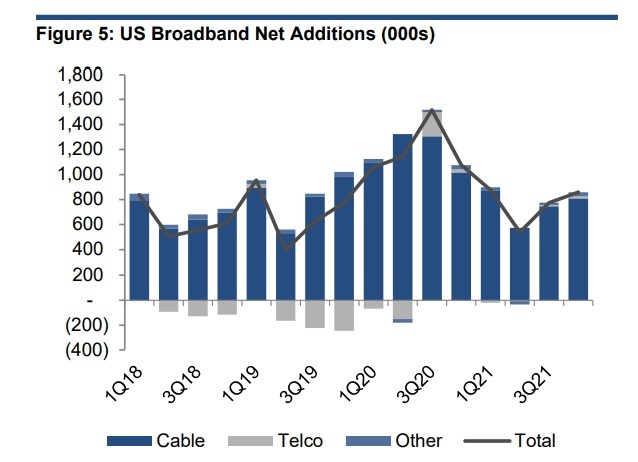 Evercore ISI also expects cable to capture the lion's share of broadband sub growth, with net adds of 1.01 million, or a share of about 95% of all net additions. Telcos are expected to add 24,000 broadband subs in Q4, improving on a loss of 244,000 subs a year earlier.
US satellite broadband service providers will pull in about 35,000 new subs in Q4 (-1,000 for ViaSat and +36,000 for HughesNet), the analysts predicted.
With everything rolled up, US service providers will add 1.07 million subs, versus a gain of 777,000 in the year-ago period. US cable operators are expected to end the period with 72.7 million broadband subs, compared to the telcos (26.4 million) and satellite (1.9 million). Overall US broadband penetration is slated to climb to 84.2%, up from 81.1% in the year-ago period.
ISI Evercore's preview arrives as several US service providers, including AT&T, Verizon, Comcast and Charter Communications, prepare to announce Q4 2020 results throughout the week.
For more detail on ISI Evercore's quarterly preview, including its expected pay-TV tally for Q4 2020, please see this story at Light Reading: Broadband gains more ground in Q4 as pay-TV takes another hit.
Related posts:

— Jeff Baumgartner, Senior Editor, Light Reading, special to Broadband World News