ADTRAN is taking particular aim at the Rural Digital Opportunity Fund (RDOF) opportunity with a new compact, ruggedized cabinet that's tailored for fiber deployments in unserved and underserved areas as well as locations on the edges of more urban environments.
That product, the Total Access 5004 (TA5004) Micro-Cabinet, can support both gigabit- and multi-gigabit-class capabilities using a combo card that can support GPON as well as XGS-PON, execs said. It likewise enables operators to extend service out to 60 kilometers to serve low-density census blocks, the company said.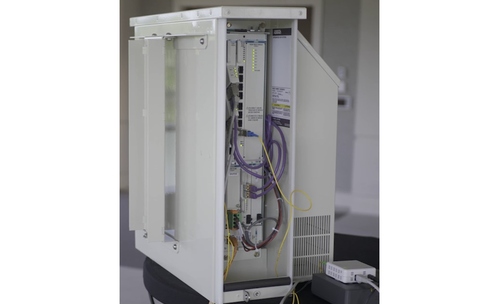 Weighing in at about 35 pounds, the micro-cabinet can be deployed on poles or even mounted on walls, explained Michael Sumitra, solutions marketing manager at ADTRAN.
ADTRAN sees the TA5004 playing a role with customers that have deployed the vendor's 5000-class of products, noting that the new one uses the same backoffice platform and, effectively, operates quite the same. "Nothing has changed in that part," notes Javier Lopez, ADTRAN's director, portfolio management, broadband access solutions.
ADTRAN also aims to handle the power challenges associated with rural broadband access by taking advantage of a company-designed power supply/card that can be slotted in to convert AC to DC to power the device, backed up by fans that keep the equipment cool.
The new product emerges as telcos and ISPs start to move ahead with deployment plans following phase I of the RDOF auction, with many winners putting forth plans to deploy fiber-to-the-premises solutions that deliver gigabit capabilities.
"The opportunity is in the millions of subscribers," Sumitra said.
That opportunity likely won't include cable operators that participated in RDOF, as ADTRAN is largely targeting the cable operator fiber opportunity with remote OLT products.
ADTRAN, which competes in this arena with suppliers such as Calix and Nokia, says it already has commitments from customers as it prepares to start shipping its first batch of micro-cabinets in a matter of days.
ADTRAN can't identify them yet, but those commitments do include a "large Tier 2 customer," according to Lopez. "This has been a long time coming. We've had customers lining up [for the product] for more than a year," he added.
Related posts:

— Jeff Baumgartner, Senior Editor, Light Reading