Growth in the market for fixed access broadband equipment will be driven in the coming years by demand for passive optical network (PON) equipment, countering the declining demand for xDSL/Gfast gear, according to a forecast from research house Omdia.
In the 2018-2025 timeframe, the PON market will see a compound annual growth rate (CAGR) of 4.3% to be worth $8.4 billion by 2025, according to the Omdia forecast. "This market remains in an upswing as operators continue to expand and upgrade their fiber-based access networks for both residential and non-residential subscribers and applications," states the Omdia team in their report (published prior to the global impact of COVID-19, it should be noted).
But at the same time, demand for xDSL and Gfast equipment is declining: The market for that gear in 2018-2025 has a CAGR of -7.5%. As a result, the overall market for PON and xDSL/Gfast equipment is expected to peak at about $9.2 billion in 2024 (see chart below).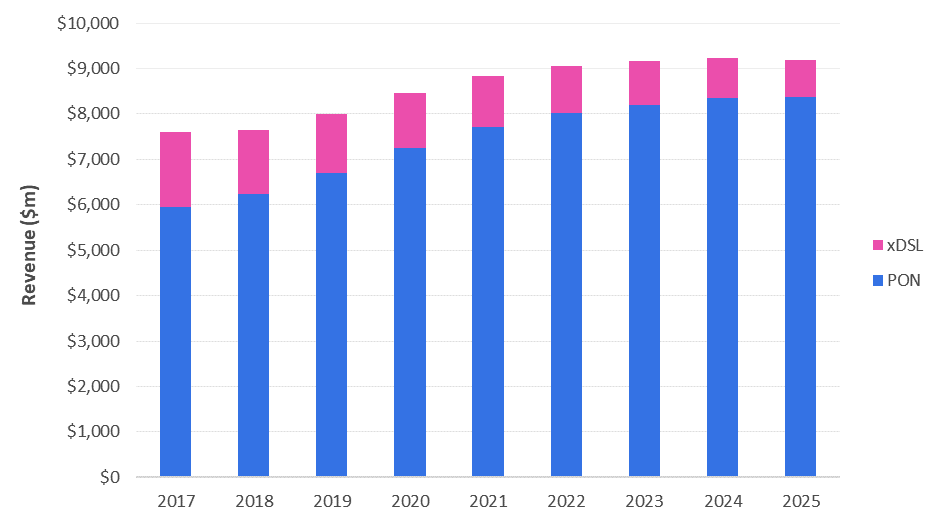 Growth in the PON market will be driven by increasing demand for next-generation PON equipment, including 10G GPON, 10G EPON, NG-PON2 and 25G/50G PON, according to Omdia: By 2021, most GPON OLT (optical line terminal) shipments are expected to be 10G.
But demand for NG-PON2 equipment (which is expensive because it includes tunable lasers) is expected to be limited, with significant deployments anticipated only by one major operator, Verizon.
The PON market will not experience growth worldwide, though.
In China, for example, network operators have already completed significant investments in their optical access infrastructure: There, the market for PON gear is actually set to decline at a CAGR of 1.8% in the 2018-2025 period.
But in Western Europe, PON investments are only just starting: That market is set for a CAGR of 16.5% to be worth $1.6 billion in 2025.
— The Staff, Broadband World News