Following a legal battle, the City of New York and Verizon have come to an agreement that requires Verizon to expand broadband service to 500,000 of the city's households.
The decision, announced last week, resolves a 2017 lawsuit in which New York charged Verizon with failing to install its Fios cable wiring citywide by 2014; a promise made in a 2008 franchise agreement signed under Mayor Michael Bloomberg (a point that current Mayor Bill de Blasio's office was sure to point out in a press release).
Now, Verizon will be required to connect at least 125,000 households in communities hardest hit by COVID-19. The company is furthermore required to connect every New York City Housing Authority (NYCHA) building by April 2023.
"Internet access is an economic right in New York City, no matter your ZIP code. Tech giants will not stand in our way to deliver high-quality broadband to New Yorkers – they must be a part of the solution," said Mayor de Blasio in a press statement. "COVID-19 has further exposed the inequalities in internet access while changing the way New Yorkers work, learn, and live. We will continue to hold any corporation that fails to deliver on its promise to New Yorkers accountable."
On the accountability front, in addition to connecting more households, Verizon is also required to provide quarterly progress reports.
All part of the 'Master Plan'
In January 2020, before the COVID-19 shutdown, Mayor de Blasio launched a new broadband initiative dubbed the "Internet Master Plan" – essentially a blueprint for identifying and closing the digital divide and providing universal broadband. As described in an executive summary of the plan:
"The Internet Master Plan is a bold, far-reaching vision for broadband infrastructure and service in New York City. It frames the challenges of achieving universal connectivity, clearly states the City's goals for the next generation of internet service, and outlines the actions the City will take to help all service providers contribute to those goals ... The Master Plan presents public and private actors with the opportunity to address major, persistent gaps in infrastructure; deliver higher-performing connectivity for residents and businesses; and set a course for eliminating the digital divide in New York City."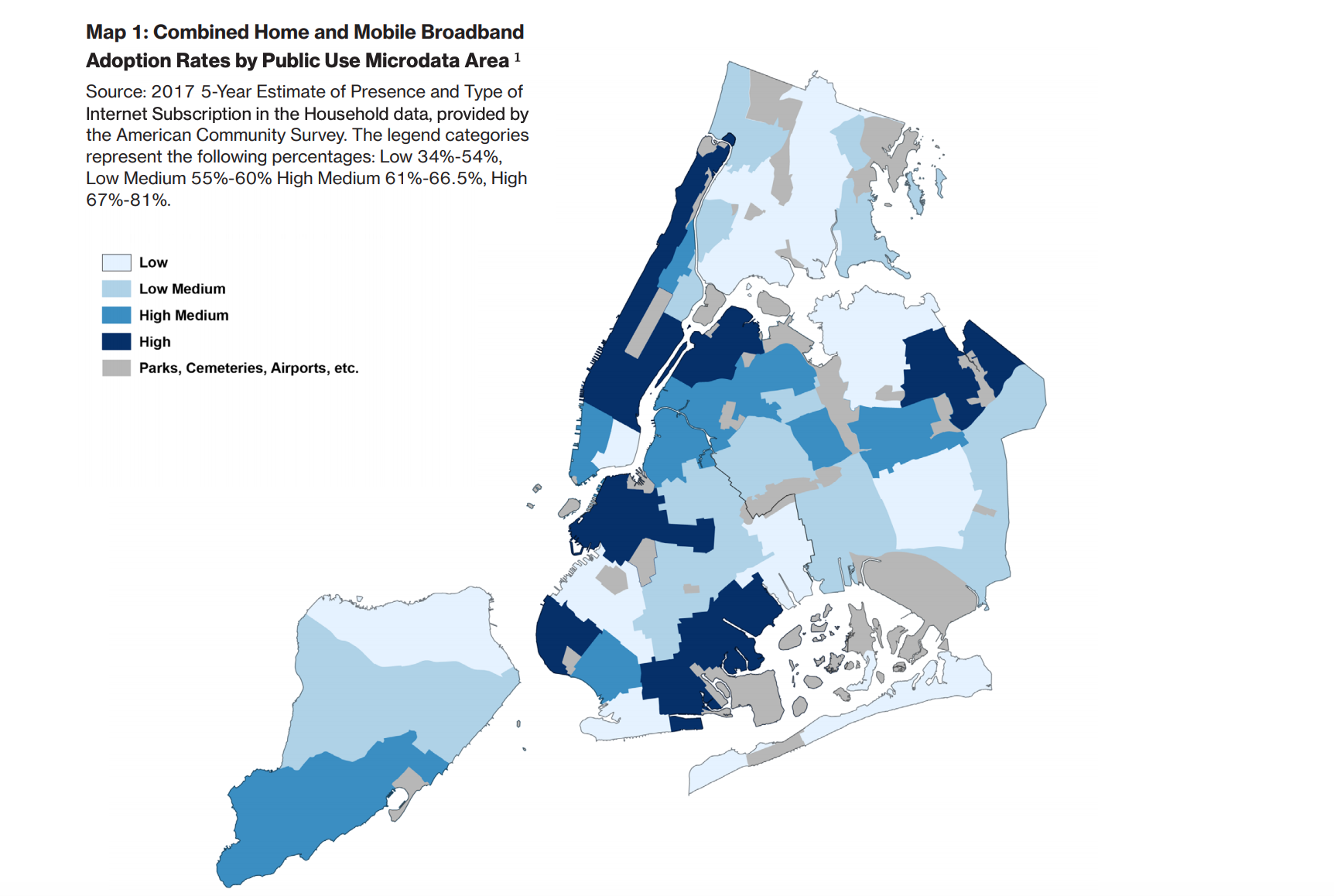 According to the plan, New York City's digital divide is represented by 40% of households (3.4 million residents) that lack the combination of home and mobile broadband, including 18% of residents (1.5 million people) who lack access to both. The city said it aimed to fix this with an interagency approach that would invite proposals for coordinated use of city real estate for broadband infrastructure; in addition to investing in new infrastructure that supports multiple broadband operators.
In a statement about the recent Verizon settlement, NYC Deputy Mayor for Operations Laura Anglin said this agreement, along with the "Master Plan," will help the city further its goals:
"As we plan an equitable recovery for New York City, closing the digital divide remains more urgent than ever," she said. "This settlement and the Internet Master Plan will ensure New Yorkers of all walks of life can access quality broadband."
In the meantime, however, the city's digital divide looms especially large as we head into another pandemic-themed winter with many people learning and working from home. The NYC Department of Education reported in October that over 77,000 city students still lacked a device to use for remote learning or an Internet connection.
Related posts:
— Nicole Ferraro, contributing editor, Light Reading