The World Economic Forum recently named 36 cities to its G20 Global Smart Cities Alliance, or what it describes as "a global effort to advance the responsible and ethical use of smart city technologies."
The "pioneer cities" selected for the alliance span 22 countries and six continents. Among them are: London, Leeds and Belfast, in the UK; San Jose, California, and Chattanooga, Tennessee, in the US; plus Manila, Philippines; Milan, Italy; Kampala, Uganda; Hyderabad, India; and others, including seven cities in Japan, the most from a single country.
The cities involved are charged with coming together to establish policies for a global framework that will improve data privacy and cybersecurity, broadband access, data transparency and digital city service accessibility for disabled and elderly individuals.
"City governments are on the frontline of a global crisis and need to be able to act quickly and decisively to curtail this pandemic and set course for their economic recovery," said Jeff Merritt, head of the Internet of Things and Urban Transformation, World Economic Forum, in a press announcement about the global alliance. "Technology is an essential tool in this fight but governments cannot risk falling into the usual traps related to privacy, security and vendor lock-in. That's where the G20 Global Smart Cities Alliance can help."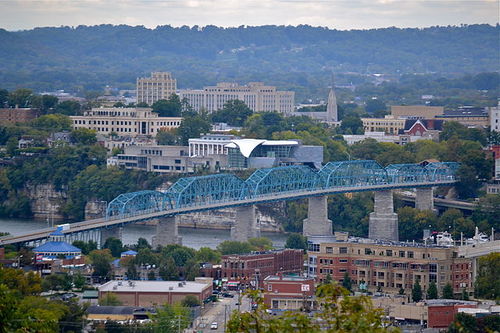 The Chattanooga model
According to reporting in the Chattanooga Times Free Press, the international effort to use technology responsibly and sustainably to solve problems builds on a two-year-old Chattanooga research partnership called the Smart Cities Community Collaborative, which was formed by the Enterprise Center, CO.LAB, the University of Tennessee at Chattanooga, Erlanger Health System and the Electric Power Board of Chattanooga (EPB), the city-owned utilities provider. With the Smart Cities Community Collaborative, Chattanooga uses the city's broadband connections to identify ways to reduce energy demand and traffic congestion, and to improve the city's transportation network.
As one of the few known "smart city" success stories in the US, Chattanooga was the first city in the country to roll out a citywide gigabit network, back in 2010, which is operated through the community-owned EPB. Over the past decade, that has allowed Chattanooga to reach every home and business with fiber, offering every resident access to 1Gbit/s speeds. It's further allowed the city to use that fiber network to establish an Innovation District to attract tech startups, as well as to explore and pilot smart city solutions.
Speaking on a recent virtual panel at a CityAge conference, Chattanooga Mayor Andy Berke bragged that investing in a gigabit network has had a "five, six, seven-fold return," for the city, which he says has enjoyed some of the highest wage growths in the country over the past decade.
It also allowed the city to be more resilient in the face of the pandemic. Berke said Chattanooga first responded to the crisis by putting up Wi-Fi poles and targeting low-income communities. It later used federal funds to offer free, ultra high-speed broadband to every family with a child on a free or reduced lunch program. "28,000 kids, zero cost," Mayor Berke told the panel. "It allows children to attend virtual school and finish homework. It also means everyone in the household will have access as well."
Tweeting today about Chattanooga's selection for the G20 Smart Cities Alliance, Mayor Berke said: "Our city's entrepreneurial mindset has allowed us to advance quality of life through investment in technology and infrastructure. I'm honored that Chattanooga was one of just two US cities chosen to be part of the [World Economic Forum] G20 Global Smart Cities Alliance."
Related posts:
— Nicole Ferraro, contributing editor, Light Reading